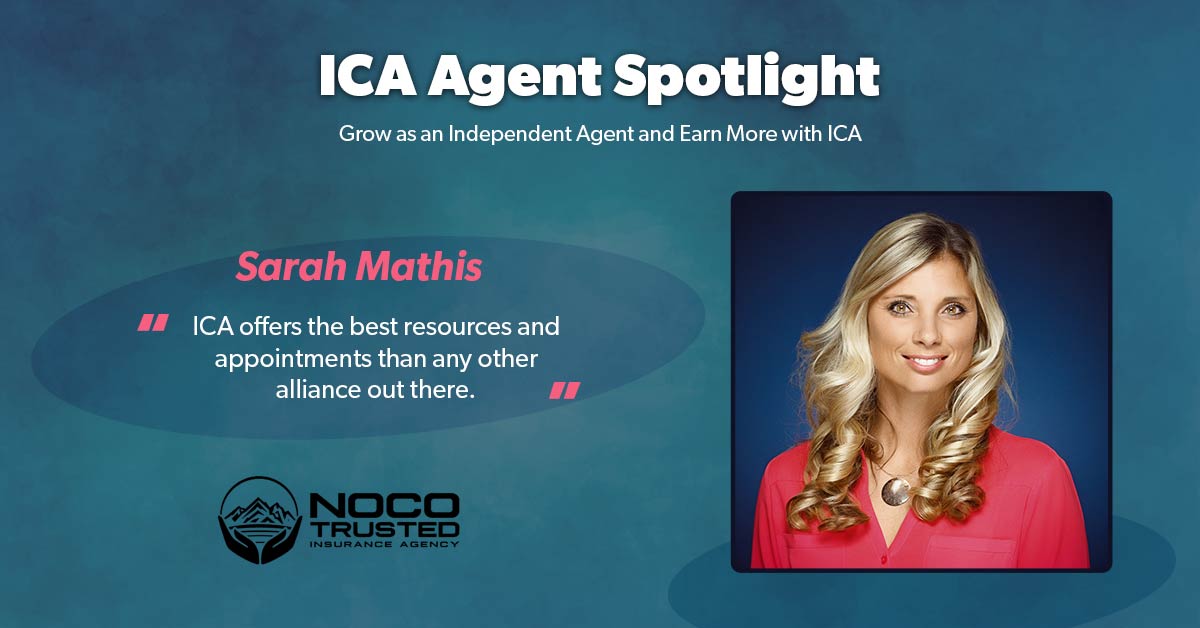 Independent insurance agency owner of NOCO Trusted Insurance, Sarah Mathis, has been helping protect families and businesses for eight years. Sarah came from a captive agency, so being new to the independent insurance world was challenging. In the beginning, trying to figure out where to go for appointments on her own was the biggest hurdle. Then, she met us.
In November 2020 she became a member of ICA/SIAA specializing in helping Insurance professionals build a multi-million dollar independent agency. ICA provides sales training and insurance education, along with free marketing materials.
Sarah has taken advantage of the many perks we offer to all ICA members. She has participated in two of our ICA Education courses, including Commercial 101, and has become an ICA-certified contractors insurance agent by completing the Complex Contractors course. The complex contractor's class not only teaches you general contractor risks but goes into an in-depth review of how to create a solid insurance program. Understanding the proper way to submit business and how to use Acord forms has been extremely helpful to her.
ICA provides exceptional marketing support as well. Sarah has utilized our FREE marketing services to help build her brand and gain recognition in her community and online. Social media is taxing for her to get into when she doesn't use it personally, but a little direction and automated blog posts from ICA to her Facebook account will help her gain a following.
Recently Sarah ventured into mail marketing and worked on building brand awareness by introducing herself to the community thru Every Door Direct Mail (aka EDDM). EDDM is a mail marketing campaign that the US post office provides through their website. You can target specific audiences within a zip code and mail route. Her experience working with the USPS to do the campaign was quick and easy. After getting a professional postcard designed and printing for a reduced rate from ICA, she was able to have the cards ready and proceed with the EDDM campaign at a smaller cost.
Her primary way of connecting with potential clients right now is networking with people face to face. Friends, family, and referrals are a big part of her network, but she wants to join a networking group soon to expand on opportunities.
We are so glad Sarah, and everyone at NOCO Trusted Insurance are part of ICA Agency Alliance! She is honest, hard-working, and looking to add an employee to her team, so she has more time to network and market her agency.
If you need help building your independent agency, visit our website for more information on how we can help you build a high-net-worth insurance agency.
Interested in joining ICA Agency Alliance?
Want to own your own book of business but get the help you need to access top insurance markets?
Fill out an application to learn more about becoming one of our members. Email the completed application to Charlene at charlene@icainsurance.com
Download Application
Already a member?
Make sure you are taking advantage of all we have to offer!