Personal and Business Insurance Education
We provide the most unique and successful property and liability insurance education and sales training in the business. This includes both Commercial and Personal Insurance - beginner to advanced. Get exclusive, one-on-one training and education, at no direct cost to you. Stay ahead of the competition with ICA Agency Alliance, Inc.
A structured process to learning the basics of personal lines insurance and a comprehensive approach to learning commercial lines insurance. Content is tailored to meet the individual's experience level and educational needs. Coursework is a combination of SIAA and ICA materials to include web-based training, self-study and actual case studies all supported with one-on-one mentoring. Classes range from personal lines basics to complex commercial accounts.
With personal lines, you will learn all lines of coverage, carrier's appetites and underwriting guidelines. We will also center on the importance of providing appropriate coverage to protect your clients' assets and account rounding.
Our commercial course targets the following: Common Commercial Lines Coverages, Commercial Lines Underwriting, Commercial Lines Submission Guidelines, Commercial Lines Rating, Commercial Lines Applications, Creating a Commercial Lines Business Narrative and the importance of 3rd party contract review. Along with this, there will be a high-level overview of specialty coverages.
Marketing is key in growing your business. We support you with this by providing a 12-week course that provides insight on practical techniques for reaching out to new prospects and fostering long lasting relationships, building a sales pipeline, effective branding and leads are provided.
A complex commercial accounts course is also offered. These types of accounts require advanced knowledge in coverages, correct applications of risk management and expertise in the insureds field. Focus will be on addressing all coverage considerations, address underwriting concerns, understand common risk control recommendations, and obtaining an in-depth knowledge of the insured's industry.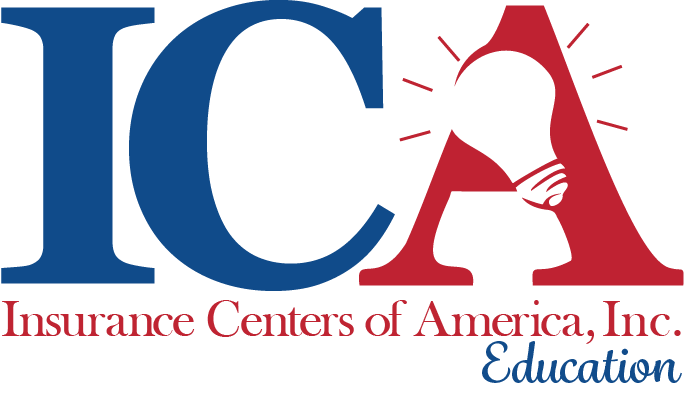 ICA Training You Won't Find With Other Aggregators/Clusters
Here are some of the courses offered FREE to members.
Agency Staff Training
Training Producers

Hiring and training a new producer takes time! All agencies want to grow and prosper. There likely will come a time when an agency owner will add Producers to help achieve their goals. ICA offers do this for you. Our program focuses on products, coverages and sales training. We provide training for both personal lines producers and commercial lines producers!
Training Customer Service Representatives (Agency Staff)

The #1 request ICA receives from its members is how to find qualified staff to service its customers without having to pay them more than the owner of the agency can afford. ICA provides the training for individuals newer to the insurance business, with little or no experience, and likely will require a lower more affordable salary. The goal is to make these individuals as productive and responsive to the customers as quickly as possible to allow the owner of the agency to sell more insurance.
Insurance Training
Introduction to Commercial Lines

This is a web CE course designed to provide an overview of commercial lines coverages. This course will touch on basic insurance, how the industry operates, regulations, the anatomy of a policy, commercial property, commercial liability, commercial auto, workers compensation and more. Each coverage section addresses specific coverages available within that line of business and provides an excellent overview of what these coverages encompass.
Property Coverages

This course in an Introduction to the Commercial Property Policy. A complete review of the policy will be provided to include the arrangement of the policy, coverages provided, conditions, endorsements, and exclusions. The types of losses covered will be reviewed as well as what is considered a covered building and structures. We will also explore property not covered, additional coverages, optional coverages available and the many conditions outlined in the policy. An in-depth review of the carriers' appetites are provided.
General Liability Coverages

This is a two-part course and is an introduction to the General Liability policy form. It focuses on the coverage overview and coverage definitions. This course proceeds from Commercial General Liability – Part Two. The student will analyze, at a high level, the difference between the claims made and occurrence form. Key definitions are identified and explained in this section of the General Liability. Part two focuses on the insuring agreement and conditions. It also touches on additional insured request and clauses and includes a case study on this topic. During this section, the student explores to the insuring agreement in detail as well as the conditions within the general liability policy. Key endorsements addressing additional insured status will be reviewed along with a sample contract requesting an additional insured clause and the impact this has on the policy.
Commercial Auto 1 & 2

This course examines coverages pertinent to automobiles and trucks used in business. Coverage triggers, known as symbols, will be reviewed. Who is an insured, discussed in detail along with liability coverages, coverage extensions, and coverage exclusions? Having studied the liability portion of commercial auto in Commercial Auto – Part One, Part Two of this course investigates physical damage coverages, exclusions, limits of insurance, conditions, and definitions. It also delves into deductible and how this impacts the client.
Workers Compensation Part 1 & 2

The focus of this course is Workers Compensation and Employers Liability. You will learn the difference between workers compensation and employers' liability along with an introduction to other states insurance. In Part Two of the course, we focus on the duties of the insured and conditions of the workers compensation policy. It also investigates federal coverages, issues within workers comp and legal theories within this coverage.
Garage Policies

The garage policy was developed to provide coverage for general liability and automobile exposures on one policy. We will examine this unique policy form to include the six sections that make up this form. This policy contains symbols used, liability coverage, garage operations and covered autos, garage keeper's coverage, physical damage coverage, conditions, and definitions.
Plus many additional insurance education classes, FREE with your membership!
Additional Agency Support Classes
Intro to Excess & Surplus Lines Market

As an alternative to the standard insurance marketplace, it is essential to understand how these markets fit into the insurance market. During this course, we will review definitions, identify what surplus lines is, examine regulations, taxes and fees and coverage differences.
Understanding BOR's (Broker of Record Policy Transfer)

This course will identify how to move a piece of business from one agent to another using a Broker of Record form. We will investigate the following during this course; definitions, advanced notice requirements, applications loss runs, midterm BORs, personal lines BORs, commercial lines BORs and excess and surplus lines BOR processes.
ACORD Training

Commercial applications may seem daunting to those new to commercial insurance. The focus of this class is to introduce the student to Acord applications and how to complete a form in its entirety. During this webinar, the student will learn interesting facts about Acord. They will learn about the importance of completing the application in full, a case study will be reviewed, and the student will walk through the completion of the commercial application based on a case study.
Binder, Certificate, EOI, ID Card and Misc. Form Preparation

We will instruct you on how to correctly fill out insurance forms while ensuring the student understands how to handle "special requests" or policy language changes to meet contractual requirements by working with the insurance carrier.
Renewal Processes

This course focuses on guiding the student to create a renewal process for both personal and commercial lines while introducing forms which will allow you to provide a coverage evaluation for your client during the renewal process.
Plus many other additional agency support classes, FREE with your membership!
For more information on how to become a member with ICA Agency Alliance, Inc.,