Your Logo Defines Your Brand
Your logo is sure to have a huge impact on the first impression you give to potential clients. It gives them information about your agency before then even speak with you. The logo is an essential part of branding your agency, so make sure to put effort into understanding what a logo does for your brand.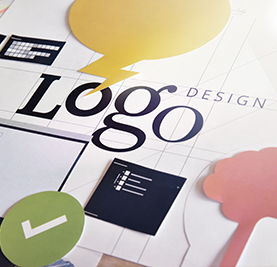 Your logo should be able to communicate your brand's personality, beliefs, and values at first glance. Logos should be simple, so they are easily replicated across different mediums such as websites, print, t-shirts, hats, pens, etc. Consider what type of logo will work best for your agency's name, then what font portrays your company's character and then choose your colors will help guide you into choosing the best logo for your agency.
Logo Types
Monogram Logos: Brand initials logos, these are typically better for a company with a long name. It is hard for people to remember longer names. So initials help simplify our logo, which makes it more memorable, and potential clients will have an easier time remembering your business.
Symbol Logo: This is a logo that has an icon or symbol associated with the name. There has to be a reason for using a symbol, but it has to be simple, so it can't say much. A symbol can help bring impact to a long name as long as it is appropriate for the business.
Wordmark: a wordmark or logotype is a font-based logo that focuses on a business' name alone. Think Google. Typography is important here because it solely focuses on the name. The font needs to capture the culture or 'feel; of your company's work environment and mission. A wordmark logo is good for businesses with a distinct name that is easy to remember.
Choosing Colors
What is the best color for your brand? Simple psychology says colors impact our emotions, even if we don't realize it. The meaning of color in logo use comes from science, art, and culture. Based on these ideas, we can understand why in our culture we relate white to symbolize purity; think weddings or doves. The same reason we associate black with death and scary cats. So before you choose your color scheme for your logo, think about what message you want to portray for your business. The personality traits of your brand will appeal to your target audience.
Generally speaking, these are the emotions associated with each color:
Red:

This color can suggest aggression and passion, but a darker shade of red can suggest elegance while a lighter shade can suggest love.

Orange:

This color is similar to red in passion but feels a little less intense.

Black:

The color of the unknown, it can display a serious but professional feel and can also portray elegance.

Green:

This is usually associated with wealth and can be a friendly color.

Yellow:

The color of the sun, this color provides a happy, upbeat feel, darker shades of yellow can suggest wealth.

White:

Suggest purity, health, and cleanliness.

Blue:

This color is a safe and stable color, so it portrays professionalism with an energizing feel

Purple:

This color is the color of royals, so it portrays elegance and luxury while it's lighter shades can suggest romance.
Choosing a logo can seem complicated, but taking the time to think about what you want your brand to say about your business will get you to the right place. Consider these guidelines when choosing a logotype and color for your brand. When you are ready to order a logo, go to our website and fill out the order form.
Need Help Branding & Growing Your Insurance Agency?
ICA Agency Alliance, Inc. offers its extensive marketing program to member agencies, at no outside cost.
Personalized Agency Website
Set Up Your Brand for Success
Search Engine Exposure
Blogs & Social Media Assistance
Preferred Agent Finder
Sales Training & Education