Five Common At Home Accidents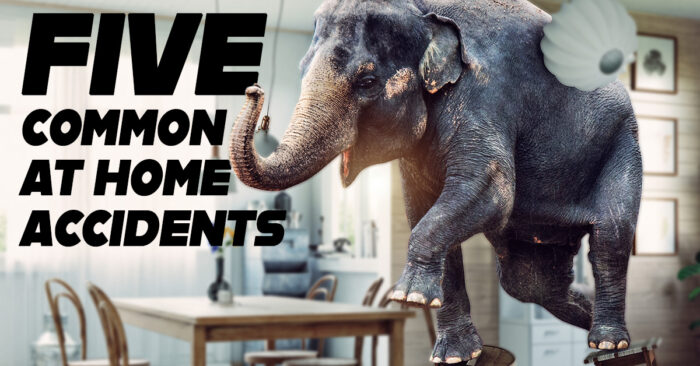 Five Common At Home Accidents
Odds are you spend a significant amount of time at your home. You likely eat there, sleep there, keep it maintained and even relax and enjoy time there. Because we spend so much time at home, it makes it a likely place for accidents and injuries. Knowing the most likely of these incidents can make your home safer. Here are five of the most common at home accidents and injuries.
Falls
It is probably not surprising to you that the older we get, the more likely we are to be injured in a fall, most commonly at home. Estimates say that 60% of all falls occur at home. Many of these falls can be prevented by limiting clutter, eliminating trip hazards like loose carpet and floor level changes. Improved lighting and even installed grab bars in appropriate locations.
Cuts
Cuts at home are so common because they can occur from so many sources. Broken glass, knives, tools, razors and scissors are just a few. Cuts can not only provide immediate trauma and loss of blood, but if not treated properly, can lead to infection and even more significant issues. Treat cuts immediately and safely. Seek immediate medical attention if the cut is significant or if you feel you are at risk of infection.
Burns
According to the American Burn Association, about 3,400 people die annually from burns. The great majority, 2,550 people, die as the result of home-related burns. Millions of other burns ranging from the mildly painful and annoying, to the severe and disfiguring also occur annually, most of which occur at home. Sources of household burns include cooking, fireplaces, fire pits, outdoor grills and household fires that start from a variety of sources.
Poisoning
Experts state that there are between two to four million poisonings that occur each year, 90% of which occur at home. The majority of these occur between 4pm and 11pm. While child poisonings often occur from household cleaning products and other common household products, adult poisonings most frequently occur as the result of legal and illegal drugs.
Drowning
Drowning is the third largest cause of unintentional deaths worldwide, causing an estimated 320,000 deaths annually. That staggering number includes deaths in bathtubs, pools, tsunamis, flooding and other causes. Children are the leading victims of drowning, with 1-5 years olds followed by 6-10 year olds. Males are twice as likely to die from drowning than females, and in the U.S. alone, an average of over 10 drowning deaths occur each day. Swimming lessons and keeping a close eye around children who are near water can help.
Keeping your home completely safe may not be possible. You, however, can take steps to minimize risks.
If it has been years since you've had a homeowners' insurance assessment, contact one of our independent home insurance agents today. There is no cost or obligation for a review of your homeowners' insurance policy.