Staying Productive Working From Home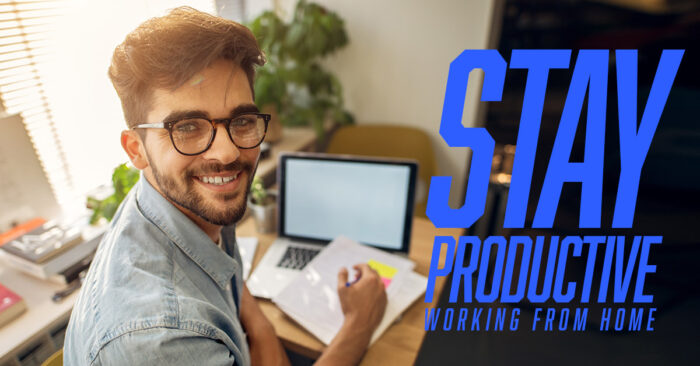 Staying Productive Working From Home
Business owners and their employees may find themselves working more frequently from home.
Working remotely has become commonplace with some surprising results. Many companies have actually seen productivity rise and employee work-balance improve through working from home.
If your business finds itself in a situation with more work from home employees, here is how they can stay more productive.
Maintain some structure to working hours. Working from home offers more flexibility than heading into the office, but workers can still benefit from set hours. They should at least be set in a range.
Find a comfortable work area with minimal distractions. A quality chair in a quiet area with minimal noise and distractions can improve productivity. Computers should be placed at a comfortable level and free from window glare.
Eat healthy. Working from home can lead to some energy draining, unhealthy eating habits like frequent snacking and a dependence on coffee or soft drinks. Keep healthy snacks handy and increase your intake of water.
Take Breaks. A "break" isn't necessarily just checking your social media or news websites. Instead, get up and take a walk or stretch. Just like you would take a break at work to refresh physically and mentally. Take breaks when working from home.
Connect with others. Working from home can lead to a sense of isolation. Reach out to coworkers to brainstorm, ask questions and even just to keep up. Maintaining these relationships is a way to maintain productivity.
Create goals and track them. A sense of achievement is critical in keeping up productivity. Set daily, weekly and monthly goals. Track your success and any personal "bests" you may achieve. In other words, keep score.
Many of the ways we operate businesses have changed recently, but not necessarily a company's exposure to liability risks. Business insurance can help protect your assets from the daily risks they may face. No matter how large or how small your business is, our independent business insurance professionals are here to help. They have relationships with insurance companies with experience insuring businesses just like yours. Contact us today to discuss the specifics of your business and how we can help. We look forward to assisting you!