Five Largest Universities in The United States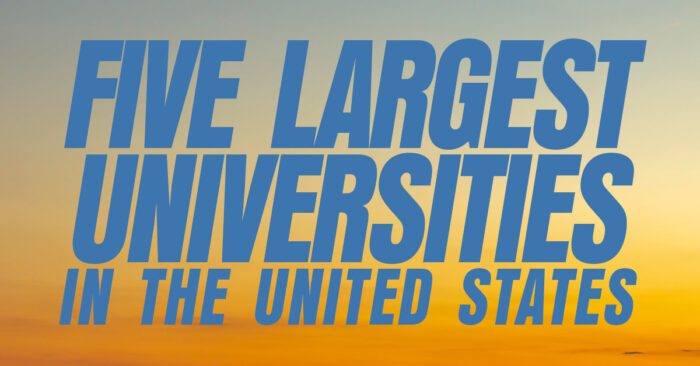 Five Largest Universities in The United States
You may be able to name some of the colleges with traditionally the best football teams (Alabama, Clemson, Ohio State) or the ones known for their academics (Harvard, Yale, MIT) but could you list some of the public universities with the largest student populations in the country? Would you believe that list includes three from the State of Florida? Here is a look at the five public colleges in the country based on student size in the 2019-2020 school year.
The University of Central Florida. UCF's football stadium is known as the "Bounce House" due to its students habit of jumping up and down during games. It also frequently bounces from number 1 and 2 on the list for the most attended school in the U.S. The beautiful Orlando Campus featured a country leading enrollment of 71,456 students in 2019-2020 school year.The weather, beaches and amusement parks may play a role.
Texas A&M University. Located in East Central Texas in the "Texas Triangle" area, Texas A&M boasts a student population of 69,465. The College Station Campus has traditions that include the 12th Man, the Midnight Yell, and the Bonfire Memorial. The university frequently tops the list of the most populous campuses but not in 2019-2020.
The Ohio State University. Set in the State Capital of Columbus, Ohio, the Buckeye campus has 61,391 students. It is known for its giant football stadium known as The Horseshoe and its BDBITL (Best Damn Band in the Land) marching band. While the school is largely known as a football school, golfing great Jack Nicklaus attended college there.
Florida International University. Another of the surprises on the list is FIU. Located in Miami, the school's population was 58,787. It may not be known for its legendary football program, but it does boast the second best business school in the country.
University of Florida. The third Florida school in the top five has a student population of 56,567. Its North Central Florida campus is located in Gainesville and famous alumni include Faye Dunaway, Erin Andrews and, of course, Tim Tebow.
Needless to say, it would make sense that these schools also have large alumni associations. By all means, school size isn't necessarily a factor in determining the quality of education, but it can make it easier to meet more people.