Going, Going, Gone. Items Not or Rarely Found on Cars Anymore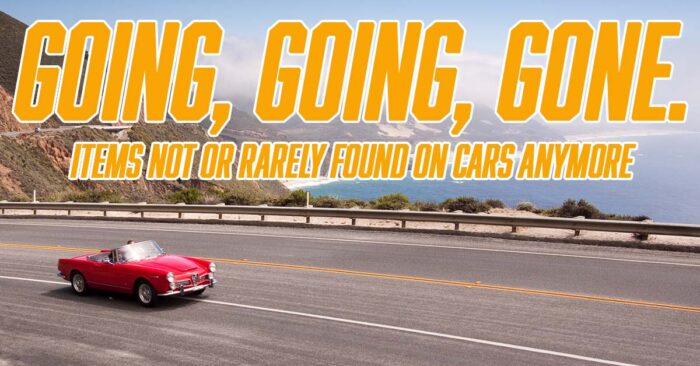 Going, Going, Gone. Items Not or Rarely Found on Cars Anymore
The list of options available for new vehicles is greater than ever. Virtually everything is electronic or digital and a push of a button can get you everything from GPS directions, your favorite tunes or adjust the temperature in "zones".
Along the way to these features, items have disappeared from our cars, sometimes without us even noticing. Here are some of the things that are impossible or rare to find today.
Wire Stick Antennas
Wire stick antennas dominated cars through the 1980s. More expensive cars actually featured power antennas that rose from the fender when the radio was used. These stick antennas were functional, until being snapped off by a car wash or vandals. They were eventually replaced by windshield-based antennas.
Ash Trays and Cigarette Lighters
Cigarette lighter and ash tray combos were popular in cars from the 50s through the 80s. More expensive cars even had them in the rear seat area. The hot coil cigarette lighters were replaced by power outlets and ash trays began disappearing in the 1990s.
Vinyl Tops
Vinyl tops covered just the roof portion of a vehicle in a textured material, giving it a "convertible-style" appearance. They were also sometimes available in "Landau" styles that only covered a portion of the roof.
Vent Windows
Before air conditioning became common in cars, they featured small triangular vent windows in front next to the driver and passenger side windows. These small windows could swing in and out to pull in air from the outside, which was particularly useful when it was hot and raining.
Manual Transmission
While still available, the number of cars with manual transmissions has been shrinking. Today, less than 2.5% of cars come equipped with manual transmissions.
Full-Size Spare Tires
Cars used to have full-sized spare tires in their trunks. Today, the vast majority feature temporary "donut" style spares to save space. Odds are you may have never even seen yours.
Whether you have a new car with all the modern options or an older car that may still have one of the above features, we can help with your automobile insurance. Contact us and have one of our independent auto insurance agents shop for you. They will shop through a network of companies to find you coverage at a price you can feel comfortable with. We look forward to assisting you!