Three Franchise Changes in Sports (and 3 that should)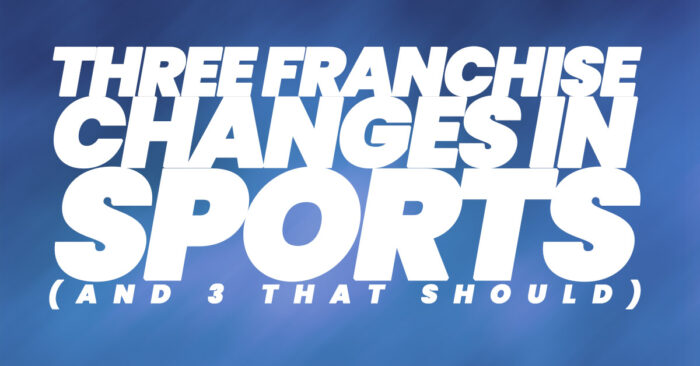 Three Franchise Changes in Sports (and 3 that should)
Changing the names of sports franchises or their locations is not a new anomaly. In fact, the Cleveland Indians, who have announced they will be dropping the name "Indians" were once themselves known as The Naps and the Spiders. Here are three notable names and/or location changes in sports and an additional three that should consider it.
The Washington Bullets/Wizards
Before the Washington NBA franchise was known as the Wizards they were actually called the Capital Bullets for a season in 1973. They became the Washington Bullets in 1974 and kept the name until 1995, when rising crime in the city caused them to rethink the moniker. They have played as the Washington Wizards since.
The Rams & Raiders
Perhaps no sport franchises has been more nomadic than professional football's Rams and Raiders. The Rams played in Cleveland from 1936 to 1945 before moving to LA in 1946. They played in LA until moving to St. Louis in 1995. They played in Missouri before returning to Los Angles in 2015. The Raiders, of course, played in Oakland before traveling down state to call Los Angles home. They returned to Oakland, only to recently moving yet again, this time to Las Vegas. In both cases, the nickname was kept through each of the moves.
Athletics and Braves
Perhaps because of their long histories, baseball franchises have a long history of changing cities while maintaining their mascots. The Oakland Athletics, for example, previously played as the Kansas City Athletics and the Philadelphia Athletics. The Braves called both Boston and Milwaukee home before heading to Atlanta.
On the other hand, there are sports franchises that should consider changing their name. These include:
The Utah Jazz
Make no mistake. Utah has a lot to be proud of. There are beautiful, scenic national parks, terrific winter sports and the inspiring Mormon Tabernacle. But "jazz"? Of course, the NBA franchise took its name from the New Orleans team when it moved to the city, but it still doesn't make sense.
The Lakers
It will never happen, of course, but the Laker name made much more sense when the basketball franchise was in Minnesota (The Land of 10,000 Lakes).
The Browns
Did you know the Browns where named after their first head coach, Paul Brown in a fan contest in 1946? Did you also know Paul Brown went on to start the rival Bengals in 1968, borrowing the Browns "CB" initials and use of orange in the team's colors? Seems odd the Browns franchise would have continued with the name.
We likely haven't seen the end of franchise moves and mascot changes. It is just a part of the business of sports.