What Can You Do When Your Neighbor is Annoying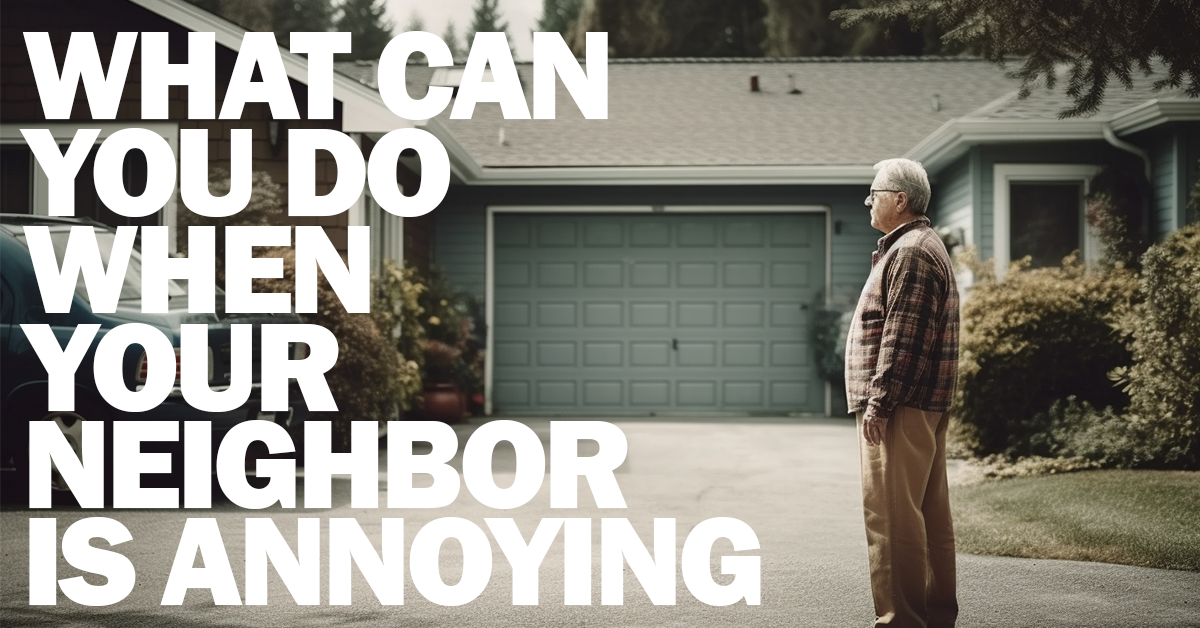 What Can You Do When Your Neighbor is Annoying
If you are lucky, you get along with your neighbors. You may not have each other over for dinner or swap recipes, but if you can at least wave and smile in the afternoons, you are ahead of the game. How do you handle it, however, when you are not so fortunate?
Here are some suggestions for what to do when…
Your neighbor doesn't mow his lawn.
Your first thought may be that they are lazy. It is possible, however, that they are elderly, ill, or may not yet own a working lawn mower. Asking if they need help with the lawn may uncover the issue or prompt them into action. If that is unsuccessful, most communities have regulations regarding overgrown lawns. You can contact them.
They have a dog that barks outside at all hours.
A barking dog is one of the more common complaints neighbors have about one another. One reason is that owners often get used to the barking themselves and don't do anything about it. A simple, friendly conversation may help. You may even suggest you and your family meet the dog so he becomes more comfortable when he sees you. If you are uncomfortable with that, a call to animal control may be in order. If that doesn't resolve the issue, you may be able to file a formal noise complaint with your city.
He has what appears to be a non-working car parked in their yard.
If a car is working and licensed, there may be little you can do. If, however, the car doesn't have valid plates, is parked in the front yard, and has been there for more than a few days, it may be able to be cited.
He plays loud music or has a band.
Most communities have noise ordinances in place to regulate loud cars and music. Many of those include stricter rules between 11pm and 7 or 8am. This may not be a situation you want to address on your own. Calling the authorities removes you from the equation and also may create a record of the complaint. That can carry weight when combined with complaints from other neighbors.
There's an old expression that says fences make the best neighbors. That may also help your situation, unless your neighbor takes, well, offense.
Of course, if you live in a managed community with an HOA, they may have regulations that may fix the situation as well.
When was the last time you checked your homeowners insurance? Many haven't checked it for years. It could be outdated or you may even be paying too much. Let us check it for you. Our independent insurance agents are offering a no-obligations review and price quote. Contact us today to get started.