8 Upgrades to Help You Sell Your Home Faster for More $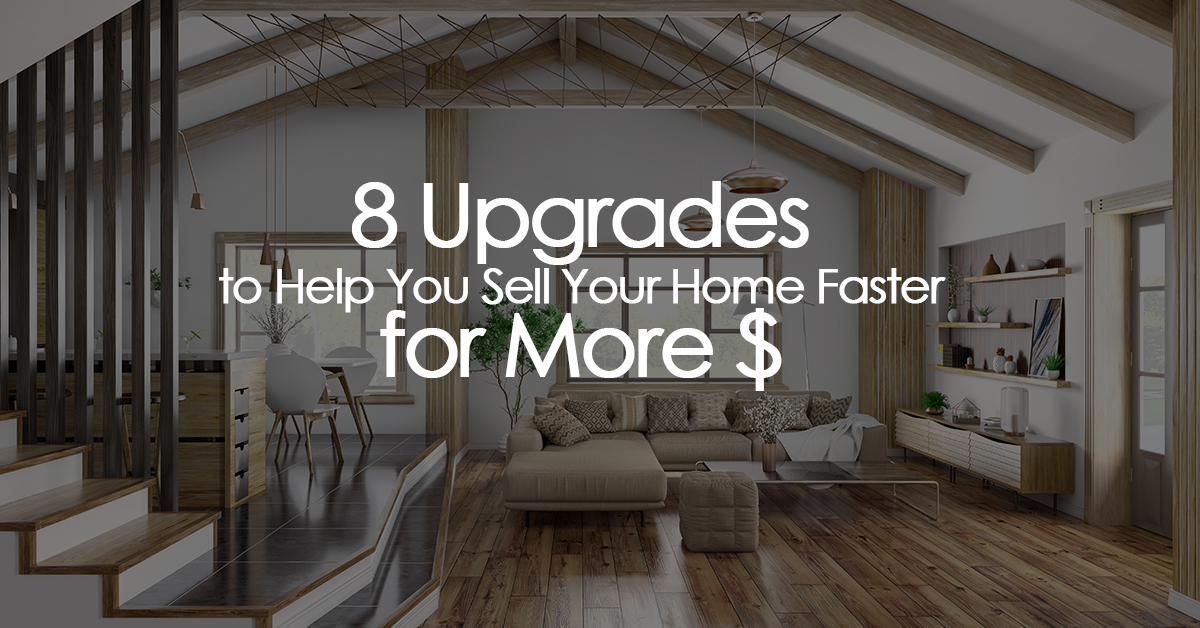 8 Upgrades to Help You Sell Your Home Faster for More $
There are usually two points of focus when selling a home. Sellers generally want to sell a home quickly and for the most money possible. Sounds pretty simple, right? If you are considering putting your home on the market, here are some affordable upgrades that can help you sell it for more, faster.
Replace the Front Door
Buyers will appreciate the appearance and security a nice new steel door brings to a home. The front door is often one of the first impressions your home will make to prospective buyers. A new door can provide big value for a comparatively small investment.
Improve Security 
Security has moved to the top of the list for many prospective buyers. Adding even some simple security features like alarms and cameras can make a positive impact. Avoid obvious security features like door or window bars however, that can create an impression of crime being an issue in the neighborhood.
Add Some Smart Features
More homes are being constructed from the ground up with smart features like lighting and heating and cooling. Even a smart thermostat is a modest investment that can be a big plus for a potential buyer. Be careful, however, not to overspend on a complete smart home remodel, however.
Upgrade Landscaping
Trimming trees and bushes, manicuring lawns and adding colorful flowers is an inexpensive way to improve curb appeal to a home. It also demonstrates that the home is well-cared for which can lead to higher offers.
Modernize Lighting
You may not have the budget for a major kitchen or bath remodel but you may be surprised the impact upgraded, modern LED lighting can make in a space. Changing lighting fixtures is often a DIY project that is budget-friendly.
Revisit Window Coverings
We often end up with window coverings that provide privacy as opposed to adding to the attractiveness of a space. Consider replacing blinds and shades with more appealing options that allow the sunshine in and improve the atmosphere. It can be a relatively small investment that can pay big dividends..
Organize Garage Space
Investing is some garage cabinets, shelving and storage hooks can provide a cleaner, more organized look to even the most troublesome space. Even organizing tools on a pegboard can make a good impression.
Invest in Staging Your Home
Take advantage of inexpensive staging tips to upgrade the appearance of your home. By adding a fresh plant, flowers or other accent pieces, you can add a bit of sizzle to how your home shows in images and in person. Keep in mind, more homebuyers are relying on attractive images to gain their attention.
Selling your home faster and for more money doesn't necessarily mean making a major investment. Make prudent decisions in areas that can make a big positive impact!