Six Interesting and Bizarre Museums Across the Country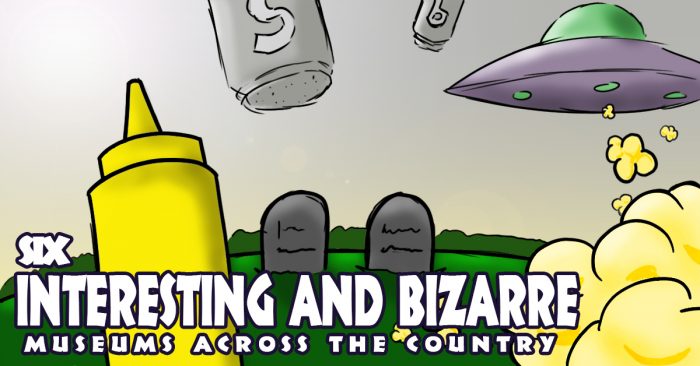 Six Interesting and Bizarre Museums Across the Country
Six Interesting and Bizarre Museums Across the Country
Looking for someplace a little unusual to visit for your next road trip? The country is full of odd, interesting and bizarre museums created in homage of a variety of people, products, and activities. Here
are six such places to consider.
The Wisconsin National Mustard Museum
Where else could one find 5,000 jars of prepared mustard from over 70 countries across the globe? Welcome to Mount Horeb, Wisconsin home of this unique museum. A tequila mustard? They have it. Wasabi mustard? You'll see it. A visit even includes some mustard tastings.
The UFO Museum and Research Museum
Of course, this out of this world museum would be located in Roswell, New Mexico. Placed in an old movie theater the museum uses most of its space in tribute to the 1947 UFO crash that reportedly took place near the site. There are also many other exhibits regarding abductions, crop circles, astronauts and everything alien.
The Popcorn Museum
This former Post Office now serves as the Wyandot Popcorn Museum, a tribute to the tasty treat and all things related. Inside you'll see priceless antique popcorn wagons, poppers, advertising and more. Among other things, you'll learn those pesky, un-popped kernels left in the bottom of your popcorn bowl are known as Old Maids.
Salt & Pepper Shaker Museum
There is a lot to do in Gatlinburg, Tennessee and the Smoky Mountain region. If you are not careful, you could miss Gatlinburg's Salt & Pepper Museum. Started from a personal collection, it now includes over 20,000 sets from the mundane to the highly unusual, like those made from lobster claws and antlers.
National Museum of Funeral History
Houston is a large, vibrant city known for its space industry, energy and advancing technology. It also just happens to be home to the National Museum of Funeral History. From Egyptian mummification tools to the pomp and circumstance surrounding presidential funerals, it is interesting if not uplifting.
The Museum of Bad Art
Just about every major city has a Museum of Art. Boston is home to the Museum of Bad Art, a collection of paintings, sculptures and other questionable pieces of art that will have you wondering how pieces qualify to be shown here.
Mustard, popcorn, UFO's, salt & pepper shakers, funerals and bad art. If you are interested in it, odds are there's a museum for it. Happy hunting along your travels.