New Car Prices: A Look at the Last 60 Years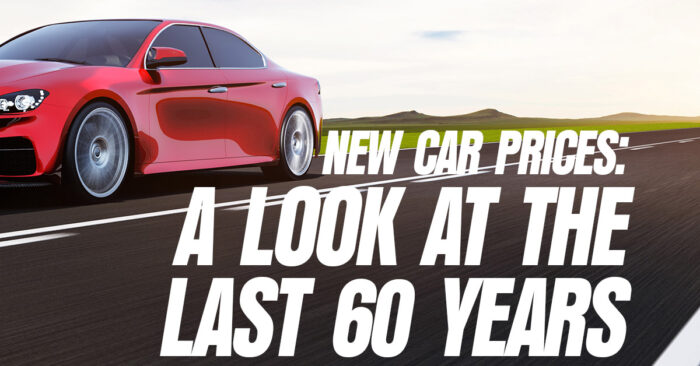 New Car Prices: A Look at the Last 60 Years
From the Chevy Corvette and Camaro to the Thunderbird and Mustang, the last sixty years have brought us some exciting vehicles. They also have brought about significant changes in safety features, comforts, technology, fuel efficiency and, of course, prices. Here is a look back at the last sixty years of cars and average new car prices.
1960-1969
This was an exciting time for new cars in the US with the debut of the Mustang, Camaro and Pony and Muscle cars. In the early part of the decade, car prices averaged about $2,700 with cars near the end of the decade topping $4,000. Gas prices through the 1960s hovered around 30 cents per gallon, making fuel mileage an afterthought. Drivers wanted fast, sexy cars.
1970-1979
The 1970s were responsible for some significant changes, as oil shortages transitioned us from muscle cars to more fuel-efficient models. The average gallon of gas rose from about 35 cents to over $1 per gallon through the decade. The average price of a new car in 1975 was about $4,800. For the first time, fuel prices began impacting our choice of new cars.
1980-1989
In the 1980s, car-makers were challenged with making cars that could achieve 20 mpg. The decade also saw average new car prices rise significantly to $7,000-$8,000. We began to see the impact of alternative fuel vehicles in the market, although they were rare.
1990-1999
Average income was rising for American families in the 1990s and so were new car prices. The decade started out with new car prices averaging about $12,000 but by the new Millennium, car prices were touching the $20,000 mark. Electric vehicles started becoming at least a factor in auto sales and pricing.
2000-2010
After the relatively stable gas prices of the 1990s, gas prices soared through the new decade. While the car designs of the new Millennium were relatively mundane, new car prices continued to rise. With trucks and SUVs gaining popularity, average new vehicle prices reached close to $30,000. More electrified cars became common.
2010-2019
New trucks and SUV sales exceeded that of sedans through the decade fueling the rise of average new vehicle prices to $37,000. Carbon fueled vehicles still dominate, but electric cars are not only becoming more common, but more powerful and have greater ranges.
2020-
Shortages of new cars have led to a dazzling increase in both new and used cars. Consumers can expect average new vehicles prices to reach above $40,000 as supply line issues increase. Electric super-cars begin surpassing acceleration speeds of combustion engine super-cars.
While we may complain about our seemingly ever-increasing auto insurance rates, we may not take into consideration that we are purchasing ever increasingly expensive vehicles. These more expensive vehicles are more costly to repair. That doesn't mean you can't take steps to save on your auto insurance. Using one of our independent auto insurance agents is a terrific first step. While we can do the shopping for you, the final decision is yours. Contact us for a no obligation car insurance review and quote. You probably price compare when buying a new car. You should do the same when insuring that car. We look forward to assisting you.