Preventing Yourself From Becoming Insurance Poor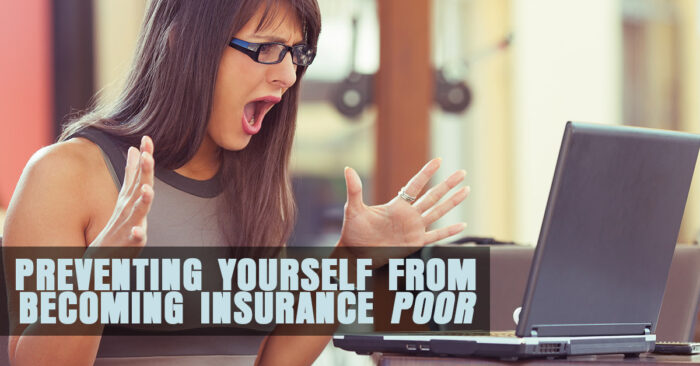 Preventing Yourself From Becoming Insurance Poor
Insurance can play a significant role in protecting your physical and financial assets. We insure our cars, health, lives, businesses and homes. In some cases, we keep policies for years and years and once in awhile we may wonder if we are paying too much for it. How can you make sure you are not becoming "insurance poor"?
One of the best ways is to stay connected with your homeowners insurance policy. Your homeowners insurance can be a culprit in escalating insurance costs for several reasons.
Many homeowners' policies have been in place for years or even decades. Frequently, homeowners purchased their policies when buying their home initially and have not looked at it since. Through the years, coverage may become inadequate or the rates have risen to higher than average levels.
Another issue with homeowners' insurance is that premiums may be paid through auto-payments or included in payments with their property tax and mortgage payments. Owners may not even realize their homeowners' insurance rates are escalating.
Even through all this, there are still homeowners that don't know where they are and aren't covered and what their coverage limits are. In short, they are not only paying for coverage they are unsure of, but may be overpaying for it. Quite frankly, this is how some become insurance poor.
These are all reasons why, occasionally, you should have a complete insurance review that includes your homeowners' insurance. Our independent insurance professionals can look at all of your coverage and find where you may be insufficiently covered or where you've outgrown coverage. They can then go to work getting quotes on all of your policies. There may be additional discounts you qualify for, like bundling, that you are not presently taking advantage of. Our experts will seek out available discounts and get competitive quotes. Of course, you make the final decision on the protection you choose.
If you are feeling just a bit overwhelmed by all the policies you may have, connect with us for a review. You will gain greater peace of mind and be assured you are not over-paying for your protection. If you can't recall the last time you had an insurance review, it is time to call our independent agents today!