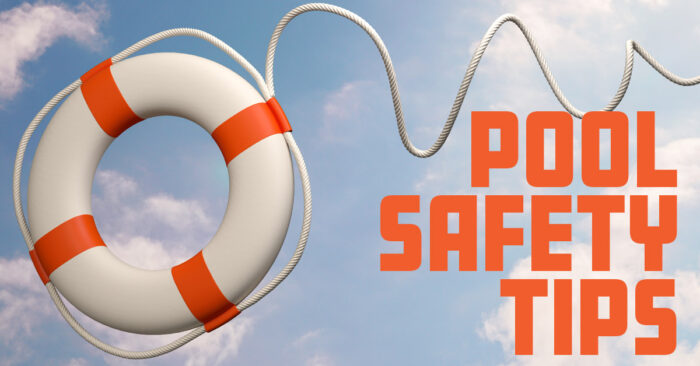 Pool Safety Tips
Whether you have a built-in or above ground pool, you'll want to take the steps necessary to keep it safe while maximizing your enjoyment. It's not difficult, but it does take diligence. Here are just a few pool safety tips.
Control Access
Whatever it takes, you must have control over access to your pool. It could be a screen, lock, removing stair access to an above ground pool, fencing or a variety of other barriers, a homeowner should keep the pool area secure.
Minimize Trip and Slip Hazards
Keep the deck area closest to your pool free from clutter and monitor the space for areas that get slippery when wet. Look for uneven or broken concrete and tiles and repair immediately.
Have Proper Lighting
If your pool is used in the evening or at night, proper lighting is essential. Lighting should illuminate the area around and in the pool.
Teach Children…
Make sure children know not to play near pool drains, to not run around the pool and to avoid jumping or diving in the pool.
Parents Should…
Parents should always closely monitor use of the pool by children, keep a cellphone handy and make sure pool toys are age appropriate. It may prove to be very beneficial for parents to learn CPR. Parents should also take the time to make sure children understand pool safety rules and what is and what isn't appropriate safe behavior. It can also be a good idea to post a sign with simple pool safety rules. These can be found at pool supply stores, or you can produce a more personalized one yourself. This can help both children and parents understand rules regarding your pool.
In terms of homeowners insurance, a pool is known as an "attractive nuisance", something that is tempting for children but also something that could harm them. Frequently, this causes homeowners with a pool to pay slightly more for their home insurance. The goal, however, is to provide a safe environment when the pool is and is not in use.
If you have a pool or are considering one, contact your independent homeowners insurance agent. We work with multiple companies who provide coverage for homes with attractive nuisances like pools. Get your free quote today!