Pre-Planning Doesn't Require Pre-Paying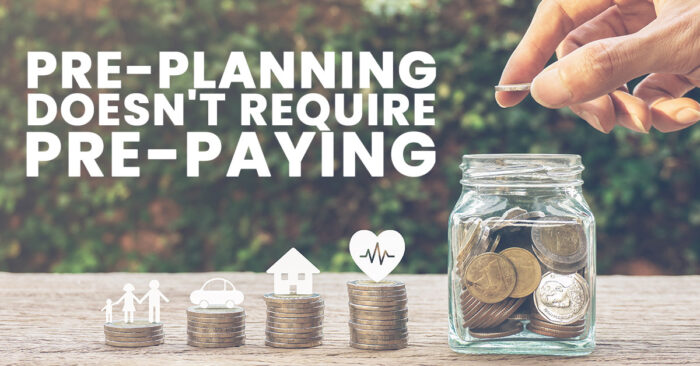 Pre-Planning Doesn't Require Pre-Paying
One of the big misperceptions about pre-planning for your own final services is that you have to have the financial resources to pay for your funeral upfront. There may be tax benefits in doing so and a funeral home may even "lock-in" your price when paying upfront, there are other options.
Many funeral directors have payment plans or allow you to pay what you can when you can in pre-paying. An even simpler and straight forward way to cover the costs of your pre-planned funeral is through a life insurance policy.
You can start the pre-planning process on your own or with the help of a funeral director. The assistance of a funeral director is beneficial in that it can help you determine more accurately the pricing of services or a "Celebration of Life". Most begin by deciding whether they would prefer a traditional burial or cremation. Pre-planning may include choosing an urn or casket, selecting a burial plot or choosing a favored place to have ashes buried or dispersed. Pre-planning gives you the option of picking the music you want played, who you would like to give a eulogy and even what you would wear. It actually can be rewarding and bring you peace of mind. It also will take some of the emotional burden from your family.
You'll want to make sure you have enough life insurance to cover everything involved in your final expenses, relieving additional stress from loved ones. Place your wishes along with your life insurance policy in a safe place with the contact number of the funeral home who may have helped you.
Pre-planning can also be as simple as letting those you care about (in writing) that you wish to be cremated and have a simple ceremony. But even simple ceremonies can reach into the thousands of dollars. Adequate life insurance is a critical part of the equation.
Even if you already have a larger life insurance policy, a policy designated for your final arrangements can be very helpful, and thoughtful. Give it some thought.
If you have questions or would like a quote to see how just affordable life insurance can be, contact us. Our experienced independent agents can help find a life insurance program to fit your needs and budget.