Annual Events That Have Lost Some Luster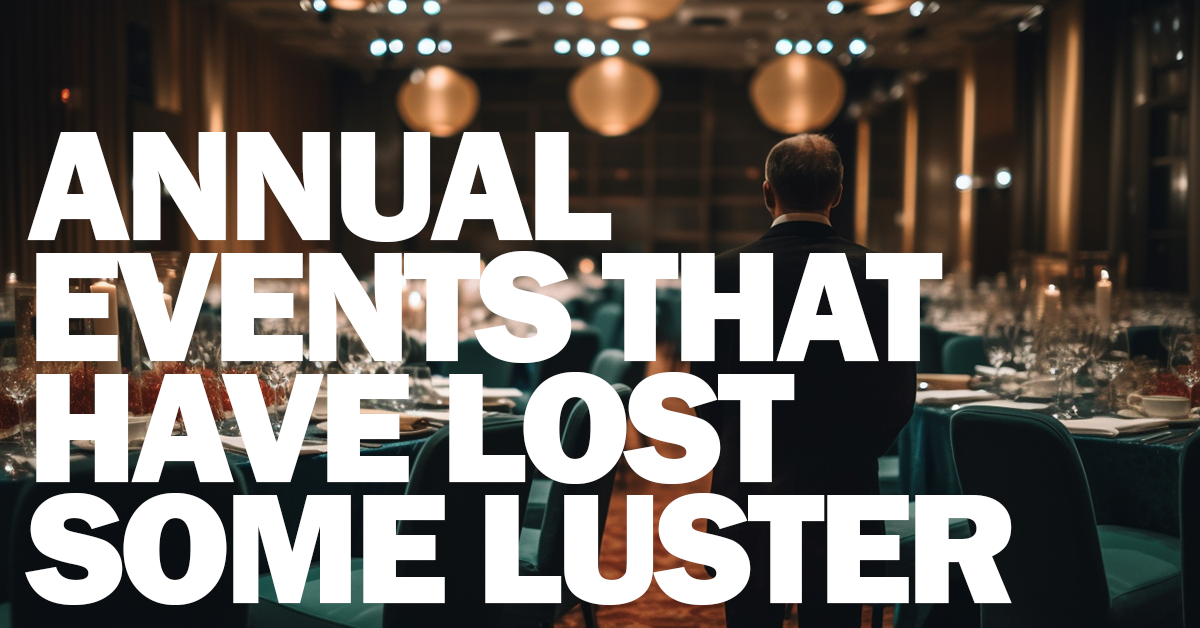 Annual Events That Have Lost Some Luster
The calendars of Americans used to be marked by major entertainment and sporting events that generally occurred at the same time each year. These events topped the news and grabbed the attention of the entire country. Over time and for a variety of reasons, many of these events have lost some of their luster. Here are a few.
The Indianapolis 500
This open-wheel automotive race is known as the "Greatest Spectacle in Racing." It suffered greatly, however, from a divisive split with CART and a newly formed Indy Racing League in the mid-1990s. The race suffered from a lack of American stars, lagging attendance, and the growing popularity of American NASCAR racing. While the race still draws hundreds of thousands of spectators to Central Indiana each May, its national interest has waned.
The Miss America Pageant
Featuring women between the ages of 17 and 25. Miss America started as a "Bathing Beauty Revue" in 1921 and was a must-see TV show, hosted by Bert Parks from 1955 to 1975. The event took place each year in Atlantic City, but competing pageants, women's rights, and changing attitudes led to its decline. Once a staple on NBC TV, it moved to streaming only in 2021.
The Rose Bowl
"The Granddaddy of Them All" became so popular because it annually pitted the two champions of the nation's most popular conferences in one final, epic New Year's Day battle. Due to the college football playoffs, the Pac-12 and Big Ten Conference winners are no longer committed to the Rose Bowl. The game has also suffered from the increasing popularity of other conferences, and like in 2023, it wasn't even played on New Year's Day. Make no mistake, the fame and surrounding events like the Rose Parade are still huge. They have just lost some luster.
The World's Fair
While not necessarily held annually, these scheduled expositions are held across the globe. They were created to showcase human advancements and national pride. Throughout history, they left behind such noted structures as the Eiffel Tower in Paris, the Space Needle in Seattle, and the Unisphere giant globe in New York. The last World's Fair to be held in the U.S. was in New Orleans in 1984, and it was a financial disaster. The last one held across the world ended in early 2022 and was held in Dubai.
The Kentucky Derby
Derby Day was once anticipated for weeks. There were office pools, and most could name at least one or two favored horses each year. While private Derby parties have enjoyed a recent rebound, the horse race itself has lost popularity for various reasons, including animal rights issues. It is just as likely today that a mention of the Kentucky Derby may bring a response of "Oh, was that today?"
Black Friday Shopping
It wasn't that long ago that Americans lined up at retail stores in the early morning hours of the day after Thanksgiving to take advantage of one-day deals. Black Friday sales are now held year-round, online shopping has dominated, and the pandemic has all contributed to the decline of in-person shopping on that single day.
Any day is a good day to review and price-check your insurance. An annual check of your homeowners, auto, life, and business insurance can pay big dividends. Contact our independent insurance agents today to get started.