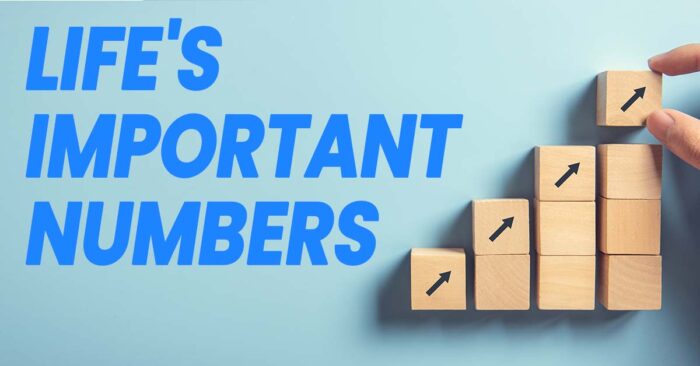 Life's Important Numbers
Have you ever been in a crowd and heard someone call out your first name? There could be hundreds, or even thousands of people in the crowd, dozens of which could share that name, but you will be compelled to turn around and try to find the person to see if they were seeking you out. Even fathers and mothers will be caught up if someone in a large crowd yells out "Hey Mom" or Dad!". But few would even turn their heads if someone yelled out their street address or first five numbers of their social security number. That doesn't mean, however, that numbers aren't as important as names. Here are three numbers that will impact your life.
Your Credit Score
Many don't realize how important a credit score can be until it starts costing money. The difference between a great and poor credit score may not only impact whether you can get a loan or not, but how much you pay for that loan. It can cost hundreds or thousands over the life of a car loan and tens of thousands over the cost of a mortgage. Your credit score may also impact whether you can get certain jobs or not. Work on improving your credit score. It is a number that can make life easier and even more affordable.
Your Birth Date
We are talking more about age here than astrology. How old you are impacts many of your rights and freedoms. You can drive at 16, vote and serve in the Armed Services at 18, and depending on the state, drink alcohol or gamble. At 25, you can rent a car, you can become President at 35, and apply for Medicare at 65. As you get older, your car insurance rates may go down but your life insurance rates may increase. Your age impacts more that what we think.
Your Physical Stats
Your height, weight, cholesterol count and blood pressure, among other stats, will influence your ability to get life or health insurance and how much you pay.
Of course, other numbers like your Social Security Number, Address, Phone Number and Password and ID numbers are important as well, but none may be as critical as your age, credit score and physical stats. They are worth noting and paying attention to.
Life insurance, in particular, is a number focused product. It is least expensive when you are young and healthy. Premiums factor in numbers like mortality rates and gender. Your height and weight ratio, blood pressure and other numbers can also influence life insurance premiums.
The bottom line is that if you are in good health and young, you can likely get a significant amount of life insurance even without a physical or medical exam. When is a good time to buy life insurance? Well, you are not getting any younger, so the answer may very well be now.
Contact one of our independent life insurance agents to compare rates for you. All numbers considered, this may be the best time.