FAQ's About Renting a Car and Your Auto Insurance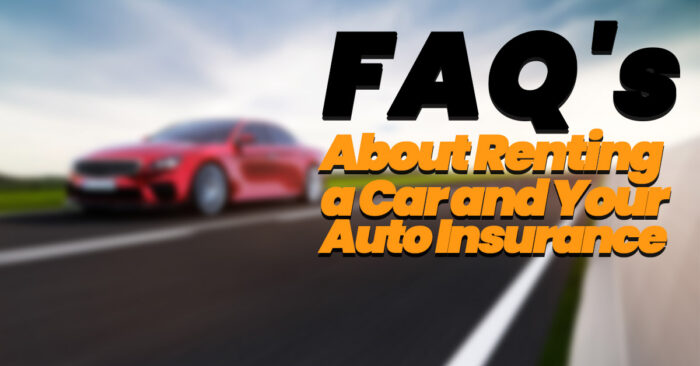 FAQ's About Renting a Car and Your Auto Insurance
You are standing at the rent-a-car counter when you are asked THE question. "Would you like our supplemental auto insurance on your vehicle?"
Well, do ya?
Here are some frequently asked questions about car insurance and rental cars.
Will my personal auto insurance cover my rental car?
Yes and maybe. Your personal car insurance will cover your rental car in the same manner as it covers your personal vehicle. If you have full, comprehensive/collision coverage on your personal vehicle, that will cover your rental. Keep in mind, if you only carry liability insurance, that is all you will have on your rental and will need additional coverage for full protection. You will also be responsible for any deductible on your present personal auto insurance. Rental car insurance from the rental company does not have a deductible.
I've heard my credit card may help. Is that right?
Perhaps. Many credit cards will offer supplemental insurance when renting a car. It is important to note that to qualify you'll need to pay for the car rental with that particular credit card. You should contact your credit card company in advance or check its terms and conditions to verify coverage.
Is coverage from the rental car company expensive?
It certainly can be. On average, coverage purchased from a rental car company can reach $60 or more per day. In some cases, it may exceed the cost of renting the car.
Are my personal possessions covered in a rental car?
They likely will be if you have renters or homeowners' insurance. There may be limits on very high-end electronics, however.
What about "Loss of Use" coverage?  
This coverage is usually not included in your standard auto policy. Auto policies may cover the physical damage to the rental vehicle. If it takes 8 weeks, however, for the damage sustained by the rental car to be fixed, you can be on the hook for 8 weeks of rental car fees, that car may have produced. This is included in the insurance from the rental car company. Always check with your current insurance company about loss of use coverage on your current policy.
What if I don't own a personal car?
If you rent a car frequently but don't own a personal car, purchasing "Non-owners auto insurance" can be a good idea. It will be less expensive than repeatedly buying the rental car company's coverage and will also provide coverage in other situations like borrowing a car.
For something so widespread and significant as auto insurance, consumers are often not aware of what it does and doesn't cover. That is why an auto insurance review can occasionally be helpful. Contact our independent auto insurance agents for a no cost, no obligation review and price quote. We look forward to assisting you.