U.S. Cities Eternally Linked Together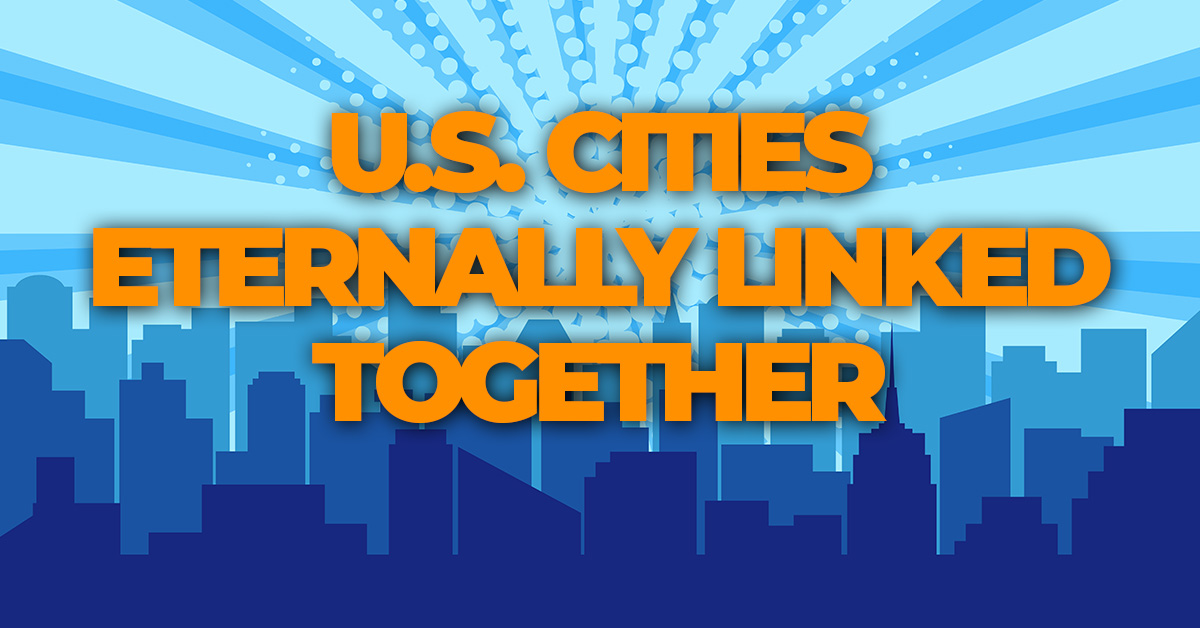 U.S. Cities Eternally Linked Together
It is not necessarily rare, but it is not common either. There are some cities in America so geographically linked that it is almost impossible to separate them. In fact, we often refer to these communities as one name. Here are six such areas that are seemingly eternally linked together.
Minneapolis-Saint Paul, Minnesota
The list is topped by what is known as the "Twin Cities" of Minneapolis and Saint Paul, Minnesota. The city's Major League baseball team is even known as the "Twins." Located at the confluence of the Mississippi River, the Minnesota River, and the St. Croix Rivers, the surprising twist to the tale is that Minneapolis and a town called St. Anthony originally became one as part of the beginning of the Twin Cities. Minneapolis and St. Paul continued to grow independently through the 1820s, 1930s, and 1940s. Today, it is Minneapolis and St. Paul that share the moniker of the Twin Cities.
Tampa and St. Pete, Florida
So is it St. Petersburg, Florida? Tampa, Florida? Tampa Bay? No wonder we refer to this Gulf Coast area of Florida as simply Tampa-St. Pete. The reality is, St. Petersburg (named after the Russian city) and Tampa are two separate communities on either side of Tampa Bay, a large body of water that serves as a shipping, cruise, and recreational center. St. Petersburg is the less populated of the two cities, with about 265,000 people. The city of Tampa has a population of about 395,000. The city of St. Petersburg is actually home to the Tampa Bay Rays MLB team, with the stadiums for the NFL Buccaneers and NHL Lightening also located in Tampa.
Raleigh/Durham, North Carolina
These two separate communities are both key components of the Research Triangle Region of North Carolina, which includes Duke University. Durham has a population of about 277,000 people, with another 479,000 living in Raleigh.
Winston-Salem North Carolina
Just a mile apart, Winston and Salem, North Carolina existed as separate communities in Forsythe County until 1913, when they merged and became the single city of Winston-Salem, North Carolina. The city of about 250,000 is home to Wake Forest University and several other colleges. By the way, the cigarette brands Winston and Salem were named after the cities, and not vice-versa.
Kansas City, Missouri and Kansas City, Kansas
Although the two can often be confused, when most talk about Kansas City, they are referring to Kansas City, Missouri, along the western edge of the state that borders the state of Kansas. Kansas City, Kansas has a population of about 150,000 people, with Kansas City, Missouri, home to 481,000 people.
Dallas-Fort Worth, Texas
The blending of the Northern Texas cities of Dallas and Fort Worth became almost an unstoppable force as the communities grew over the past 50 years. Suburban growth, freeways, and a rail system have now connected the cities forever. Technically, still separate cities, Fort Worth has a population of about 775,000, with Dallas adding another 1.25 million. Those who live here say Fort Worth is more of a laid-back place, and Dallas is more urban.
Insurance blends the factors you may have in common with other people and blends them with factors unique to you. That is why price quotes for auto, home, life, and even business insurance can vary so widely. Make sure you are getting the most value. Contact one of our independent insurance agents today for a no-cost, no-obligation insurance review and price quote today. We look forward to assisting you.