Old Florida Tourist Attractions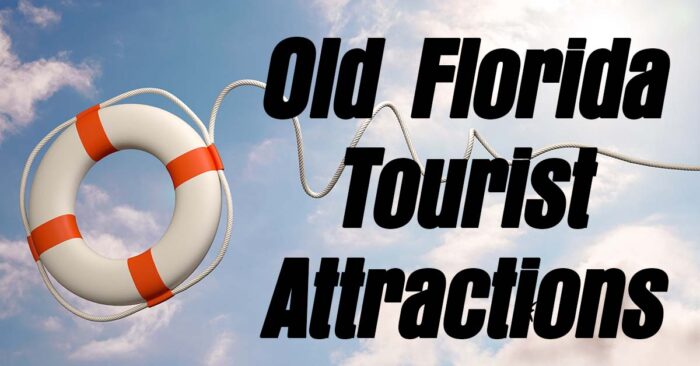 Old Florida Tourist Attractions
For generations, families have been traveling to Florida for vacations and getaways. But Florida wasn't always about princesses, wizards and cartoon characters. There was a time when natural resources and wildlife took center stage. Here is a look at some Old Florida attractions, some of which still exist today.
Marineland
Marineland was once a main stop for those visiting Florida from the Northeast. Located along US 1 near St. Augustine, it built its reputation for dolphin shows and other performances. Today, Marineland is more "Eco-Friendly" and up close and personal, offering a variety of dolphin encounters.
Silver Springs
Once a major attraction in the Sunshine State, visitors can still enjoy a glass bottom boat trip on one of the nation's largest natural springs. You can even take kayak and canoe trips along the miles long Silver Springs River. Silver Springs is located just east of Ocala and west of the Ocala National Forest. It is now a State Park.
Gatorland
Gatorland, near Orlando, traces its history to the 1940s as one of the region's original tourist attractions. It has not only survived, but has thrived as an attraction with zip-lines, a small water park and swamp buggy rides. Gatorland is an exceptionally well-cared for and maintained attraction and you will be awed by the number of alligators on display.
Cypress Gardens
Winter Haven's Cypress Gardens was once a capital of water skiing shows and competitions. The grounds featured strolling Southern Belles with beautiful gowns and the landscaping was meticulously manicured. It was a terrific place to enjoy Florida and the South, but times changed when the mega-parks moved in nearby. Today, the location is home to LegoLand Florida and has found a new audience.
If you are unsure of whether or not your insurance is up-to-date, we invite you to contact us. Our independent insurance agents are qualified to review the policies of any company, and may even be able to find you more cost-effective alternatives. Connect with us today for your no obligation insurance review and price quote today.