Duct Tape: The All-Purpose, Don't Leave Home Without it Product.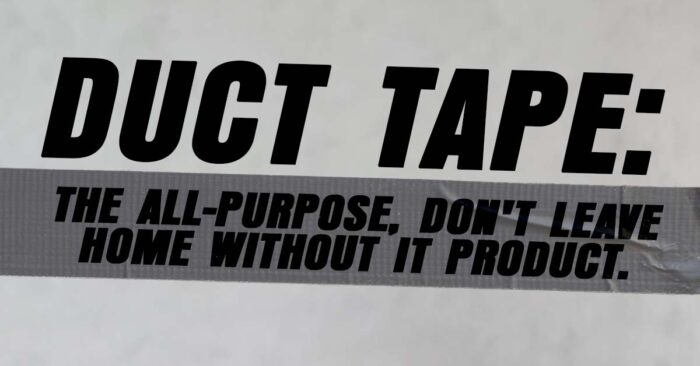 Duct Tape: The All-Purpose, Don't Leave Home Without it Product.
Any discussion of the iconic pressure-sensitive adhesive tape must begin with whether it is "duct" tape or "duck" tape. It may surprise you to know that depending on the situation, both may be correct. Duck tape, for example, was originally a tape made with long, thin strips of duck cloth, thus the name. Technically, duct tape is made from a foil that is adhesive backed, that can be used to seal metal ductwork connections, thus duct tape. They are both used interchangeably today, with materials ranging from a silvery gray to fancy patterns and colors. The tape is generally thicker in width, and is stronger than many other options when it comes to taping, sealing, and connecting.
Originally, duck tape was not adhesive at all, but long strips of cotton duck cloth that helped protect metal and could even be used to make shoes last longer. Bridge cables were often coated in linseed oil and then wrapped in duck cloth to protect them from the elements. This type of duck tape was used to protect shoe uppers and as insoles. In the 1930s, power companies frequently used a form of duck tape to insulate electric cables.
Since the early 1900s, various adhesive backed cloth tapes were being produced for a variety of purposes. It was in World War II, however, that duct tape as we know it today, began to be developed by Johnson and Johnson. The adhesive backed tape could be ripped by hand and could be used to seal a variety of items, including munitions. The yet unnamed product was primarily produced in drab army olive green and was used on everything from weapons to jeeps for repairs.
In the 1950s a Cleveland Company acquired the rights to produce a duct tape, and in the 1960s a St. Louis Company manufactured heat and cold resistant tape it referred to as duck tape. Eventually the term Duck Tape, using a yellow duckie logo, was trademarked.
How popular is the tape today? It is estimated that consumers purchase over $75 million of the stuff every year. It is said this is enough duct tape to reach around the equator over 12 times.
Just about every home, office, car and workplace has a roll "just in case." It has become a staple of the American toolbox.There is even an annual Duck Tape Festival in Avon, Ohio.
Are you prepared for life's emergencies? Life insurance, auto insurance, business insurance and home insurance can help. Connect with us for a no obligation quote on your insurance today!