The Difference Between Renters, Homeowners and Condo Owners' Insurance Policies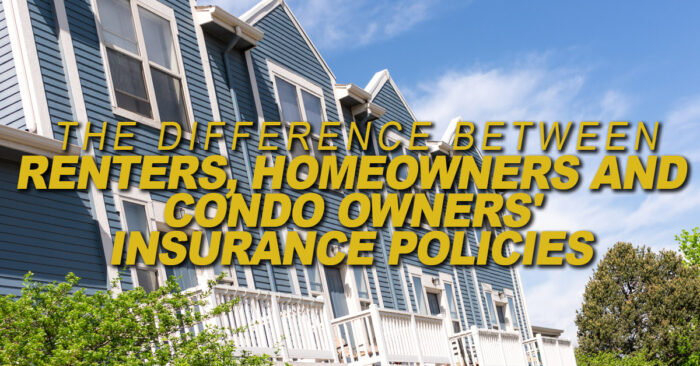 The Difference Between Renters, Homeowners and Condo Owners' Insurance Policies
Those who live in apartments, condos and single-family homes have different needs when it comes to protecting their assets and liability risks. There are specific loss prevention products for those who live in each. What are these differences? Here's a quick look.
Homeowners Insurance
Designed mainly for those who own single-family homes, homeowners insurance usually covers the home's structure, outbuildings, contents and it provides liability coverage. There are add-ons and options for homeowners insurance policies that could provide for hotel stays and meals while a home is being repaired, riders that can offer additional protection for valuable collections and more. Mortgage companies will often require homeowners' insurance on properties they finance.
Renters Insurance
Those who rent their living space should strongly consider renters insurance. This does not insure the overall structure, but focuses on covering the personal property and liability risks of tenants. This may include furniture, clothing, electronics and other possessions. Depending on coverage, some personal electronic devices like smartphones may not be covered. Renters insurance may also cover belongings when traveling.
Condo Owners Insurance
Those who own a condominium can benefit from the protection of a condo insurance policy. Condo insurance generally provides coverage to damage for the interior space of your condo, personal belongings and liability risks. The association is responsible for insuring outside structures. In case of severe damage to the structures, the association may vote to place an assessment on property owners to cover excess damage. Since these assessments can be expensive, protection is available under a condo policy to cover the costs.
While each policy above varies, they do provide some common protection like personal property and liability. To discuss your options, we invite you to call one of our experienced, independent insurance professionals. As independent agents, they are not limited to offering the products of just one company. Instead, they can compare the rates and coverage from multiple companies. Of course, you make the final decision. Whether you rent, own a condo or a single-family home, contact us to get started today.