You "Auto" Keep an Eye on It: Pros & Cons of Automatic Car Insurance Payments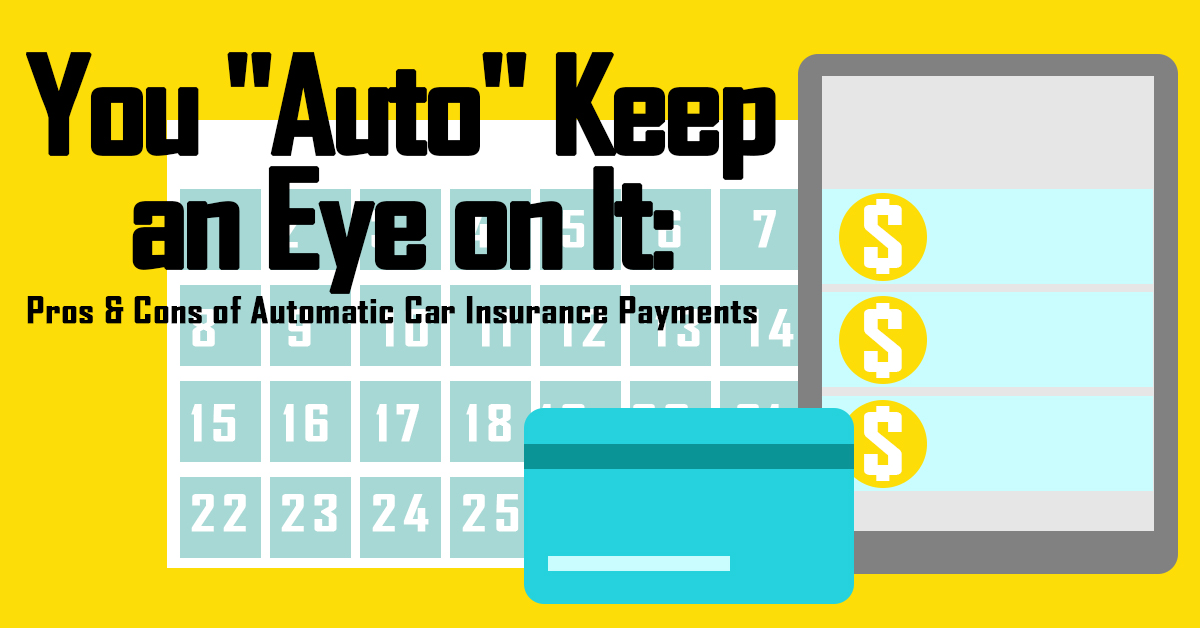 You "Auto" Keep an Eye on It: Pros & Cons of Automatic Car Insurance Payments
Do you make your automobile insurance payments through a debit or credit card using an automatic payment system? "AutoPay", as it is frequently called, is becoming increasing popular. In fact, recent surveys indicate that over a third of us, (35%) pay at least one bill through an auto pay system. There are some good reasons for this. There are also some things to be cautious about.
Here are some pros and cons of using auto pay for your car insurance and why you "auto" keep an eye on it.
Automatic Payment Pros
One of the most valuable reasons to sign up for automatic payment for your car insurance is that auto-pay usually comes with a discount. Making payments automatically can normally save a consumer the equivalent of a month's payment or more over making individual payments "manually".
Automatic payments eliminate the worry of forgetting a payment or making late payments. This is especially critical in automobile insurance. There is no need for postage or taking time each month to submit a payment online. For those ecologically minded, it saves on envelopes and fossil fuels used in mail trucks. Most automatic payment systems also allow you to select a payment date that is convenient for your budget.
Cons of Choosing Automatic Bill Pay
There are certainly benefits to making car insurance premium payments through an automatic bill payment system each month. There are, however, issues one should be aware of.
The biggest is perhaps, forgetting that an automatic payment will be made by check or credit card. This can lead to you exceeding your card's limits, being overdrawn, or perhaps even having the payment rejected. This can create unneeded hassles and may cost you extra. Any savings achieved through auto-pay can quickly be spent through an overdraft fee.
Automatic payments are so seamless, drivers may often not pay attention to the amount of money they are being charged. Premiums may go up by only a dollar or two a month. Percentage-wise, however, those increases can be significant over time. Submitted payments manually keeps you better in touch with your expenses.
Auto-pay is just one way in which you can save money on your auto insurance. For others, please contact our independent insurance agents. They have the ability to shop multiple companies for the best rates for your circumstances. We look forward to assisting you.