7 Small U.S. Towns With Unique Atmospheres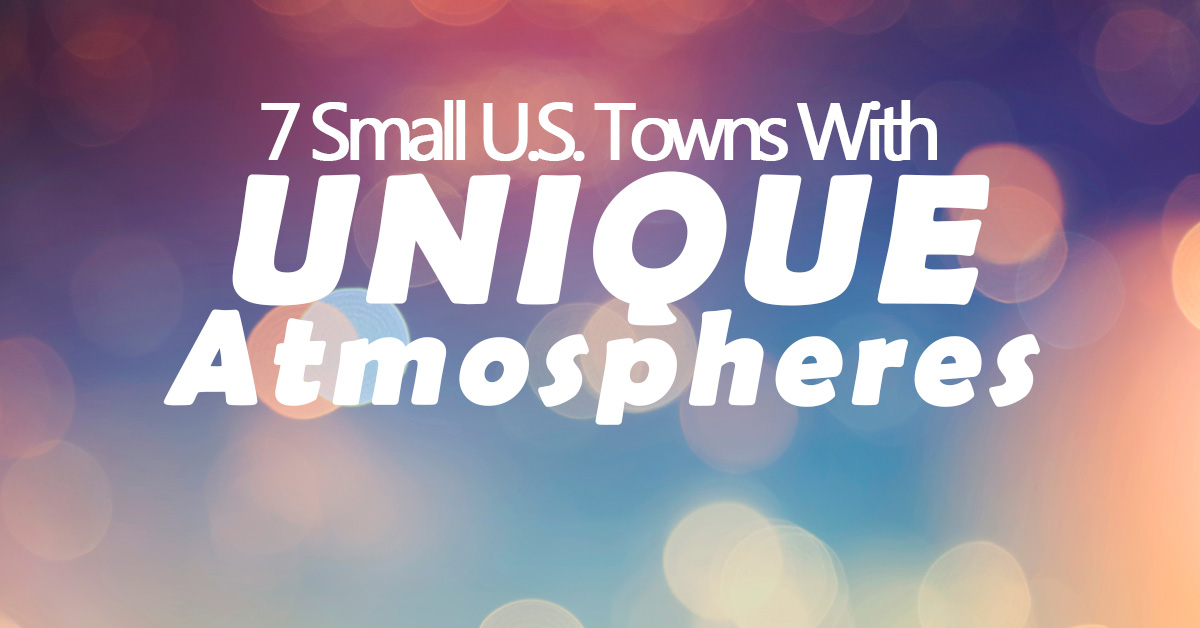 7 Small U.S. Towns With Unique Atmospheres
There are some places in America where the atmosphere of its place in history is almost tangible. Many of these are relatively small places that capture the elements of their past and refuse to let them go. Here are 7 small towns in the U.S. with unique atmospheres.
Salem, Mass.
Made famous by the witch trials of 1692, this community of about 43,000 sits along the northern coast of Massachusetts, north of Boston. The city is filled with history, most of it tied to the trials of supposed witches. Attractions include the House of the Seven Gables, Peabody Essex Museum, The Salem Witch Museum, The Witch House at Salem, The Salem Witch Trials memorial, The Witch Dungeon Museum, and more. It may be difficult "which" to visit. The air is undoubtedly heavy here, and the city's history has followed it into the future.
Gettysburg, PA
You don't have to be a Civil War buff to recognize the significance of the Battle of Gettysburg. The city was founded by a tavern owner in 1786 by Samuel Gettys. Ten significant roads led into the city, making it accessible and valuable. In late June of 1863, the Battle of Gettysburg took place, resulting in the deaths of over 51,000 Union and Confederate soldiers. The battle ultimately led to the end of the Civil War. The population of the small community remains below 9,000 people today. The area is filled with history, monuments, and a solemn atmosphere that is palatable.
Yellow Springs, Ohio
Home to Antioch College in Greene County near Dayton, Ohio, Yellow Springs has a vibe that is clearly free-spirited. It is known as "Hippie Town, Ohio", and its progressive lifestyle permeates the community of less than 5,000. Trees are randomly decorated, and nature is a big selling point, including biking and hiking trails. Rod Serling of the Twilight Zone spent time in and around Ohio. Antioch College and Yellow Springs, which should give you an idea about the creative vibe in the community.
Cassadega, FL
This small, rural community in Central Florida was founded by spiritualist George Colby, who said a spirit Indian guide sent him to the place to found a community of like-minded people. Today, the tiny town is home to many psychics, mediums, and spiritualists and is known as the Psychic Capital of the World. Get a reading, stay at the local hotel, or even sit in the Devil's Chair while visiting. There is something distinctively different about this place.
Jackson Hole, WY
Jackson Hole is one of the most vibrant ski areas in the west. Even in the summer, however, it exudes an interesting vibe. There's the towering presence of the Grand Tetons, largely idle ski lifts and resorts, and a community park with unique arches made of antlers. Yes, there is something oddly interesting about families posing for selfies under arches or real antlers. In the winter, it's hardly noticed. In the summer, it's the center of attention.
Frankenmuth, MI
Stepping into Frankenmuth, Michigan is like stepping into another time, place, and season. Here, it is Christmas year round and the community celebrates its Bavarian culture with themed architecture, shops, dining, and special events. It is a family-friendly destination where it is always five o'clock, so grab a pint.
Helen, Georgia
Like Frankenmuth, Helen, Georgia has taken on another persona all its own. Talk about small, however, Helen has everybody on this list beat, with a population of under 1,000 and a footprint of just over two square miles. It is most noted for its Bavarian-style buildings and area vineyards. You won't feel like you're in Georgia anymore.
We all have our own special places and things in our lives that we feel compelled to protect. When it comes to auto, home, life, and business insurance, we can help you protect your interests. Contact us for a free, no-obligation quote on your loss prevention policies. We look forward to assisting you.