Six Things to Know Before Getting Your First Dog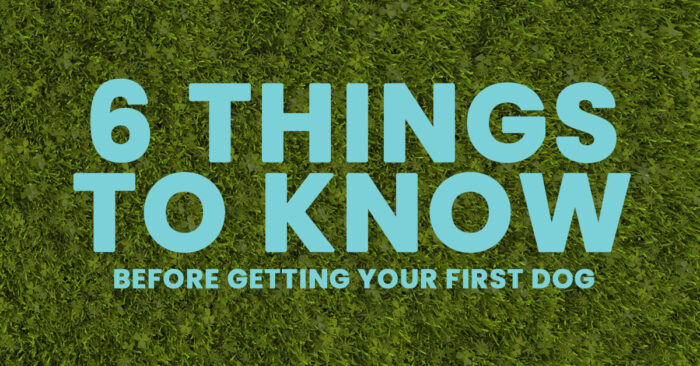 Six Things to Know Before Getting Your First Dog
Are you considering adding a dog to your family? It is not a decision that should be made lightly. After all, adding a pet will likely change your, and their lives for years to come. Here are some basics you and your family should give some thought to before getting your first dog.
Breeds Matter
This may seem obvious, but many only consider the breed of the dog in terms of their appearance. You may think you want a certain dog because they are cute but the breed of a dog affects much, much more than their looks. It will impact how much attention they need, their temperament, their health and whether they are right for your lifestyle and living conditions. Research breeds based on the type of dog you will be compatible with, not on their "looks".
Dog Size Impacts Lifespan
The larger the dog, the shorter it's lifespan will likely be. Larger dogs also tend to have more physical and health issues than smaller dogs. This may not be a deciding factor in your choice, but it is worth considering
You Can Teach an Old Dog New Tricks….to a Degree
Getting a puppy is tempting because you can start with a clean slate. Plus puppies are just so darn cute. Don't underestimate how trying and frustrating they can be, however, especially in the early stages. Adopting an older dog may be a better solution. Unless the dog is over 7 years old you will still likely be able to train them and teach them new tricks.
A Dog's Behavior is Often tied to How They View Their Place in the Family
Dogs are pack animals are will find their place in your "pack" or family. If the view themselves as protectors they may bark at even the slightest of noises. Alpha-type dogs will often try to take more control in the house and pull on the leashes when being walked. It can be very beneficial to learn more about this pack mentality and how it impacts training when getting a first dog.
Start a Dog Saving Account
If you are inclined to add a dog to the family, start at least a small pet savings account. Pets can be more expensive than you realize, especially when it comes to shots, injuries and illness. Having money set aside specifically for your pet may help you avoid a very difficult decision should your pet require an expensive surgery or medical treatment in the future.
You should also be aware that adding a dog to the family could create an increase in your homeowners insurance rates. This may especially be true if a dog is considered an aggressive breed where you live. Contact one of our independent insurance agents to see how a pet you are considering may, or may not, impact your homeowners' insurance rates.