The Ever Popular, Valuable, Never Obsolete and Always Handy to Have Business Card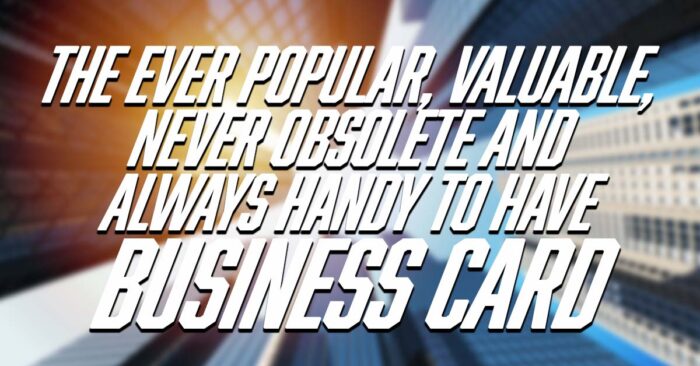 The Ever Popular, Valuable, Never Obsolete and Always Handy to Have Business Card
Odds are if you are in business, you have a business card. These little cards have survived a myriad of supposed replacements through the years including recent digital attacks on their value. Yet they continue to march on, in some instances, becoming more important than ever. What we call business cards today actually trace their history back to the 15th century in China and 17th century in Europe, when playing, card size cards contained information about an important or wealthy visitor. These served as a form of introduction to someone who may be new to an area. They were actually initially more of a sign of importance, status and wealth than about business.
So why do these little cards still remain such an important part of our businesses?
They are Inexpensive
Even high quality, full-color, embossed business cards are very inexpensive when priced individually. Especially when you consider their potential value. The fact that they are so affordable makes them easy to exchange.
You Don't Want to Be Caught Without Them
Face it, it is very uncomfortable when someone gives you their business card, and you don't have one to exchange it with. Even if you did leave them at home, it is still awkward.
You Have More Contact Info Now Than Ever
The case can be made that business cards are more important than ever because of the amount of contact info you may have. Today, you may not only have a business and personal phone number and business address but an email address, website and a myriad of social media contacts. These can all be conveniently placed on a business card.
They are Tangible
While a prospect may forget your name in a minute, they will have a tangible business card reminding them of your meeting when they get home. You'll also have confidence they have your correct contact information.
Business cards are affordable and valuable and should be a part of every business. Just like business insurance. Unfortunately, over 40% of today's businesses don't carry it. Business insurance is affordable and can protect your assets from a variety of losses and liability claims.
If you don't have business insurance or haven't reviewed it in years, it may be time to revisit it. Our business insurance experts can help. Contact us today.