From AM Radio to Touchscreens: The Evolution of In-Car Entertainment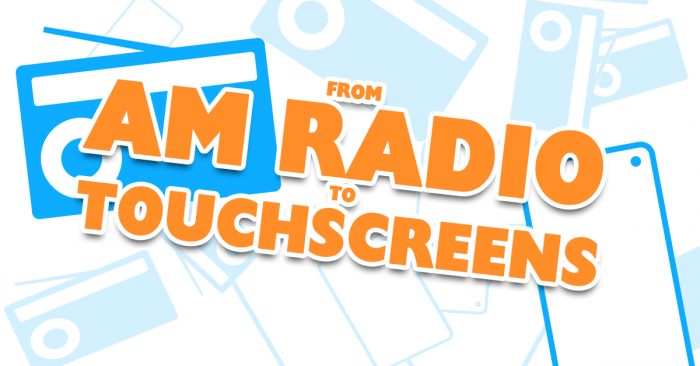 From AM Radio to Touchscreens: The Evolution of In-Car Entertainment
When you consider Carl Benz patented the first motorcar in 1886 and the first Model T rolled off the assembly line in 1908, you have to wonder what people did for entertainment when in a car. After all, the first car radio wasn't commercially available until 1930 and you could only blow your horn and scare horses only so often. Those first AM radios were not inexpensive either. They started at $156, almost 25% of the cost of an entire Model A Deluxe Coupe.
Since then, in-car entertainment has become increasingly popular and diverse. In-car radios became more common with push-button radios making their appearance in the mid-1930s. By the mid-40s even the common man could afford an AM radio in their car. It wasn't until 1952 that FM radio made its debut in vehicles, but it would be decades before FM would outpace AM radio with in-car popularity.
In 1965, Ford made 8-track tape players available in its 1966 cars, a move that was so successful, all Ford cars soon had them installed as standard equipment. These 8-track players were a mainstay in car entertainment until the late 1970s. They were gradually being replaced by the increasing popularity of FM radio, and FM "converter" boxes that allowed AM radios to broadcast the cleaner, FM signal.
It was in the early 1980s that the more compact cassette tapes replaced 8-tracks, and cars were being produced with AM/FM/Cassette combination units. These were popular only for a hot-minute however, as Pioneer introduced the first in-car CD player, the CDX-1 in 1984. CD players would remain a standard in new in-car entertainment for the next 20 years.
Since 2000, in-car entertainment technology has rapidly improved from MP3 players to Bluetooth to SD Cards.
Today, in-car entertainment has transitioned to "infotainment systems". Automobiles have become interconnected with smartphones and touchscreens, keeping us entertained and connected. Cars have in-vehicle hot-spots. Rear seat video screens and digital games have become more commonplace, especially in family-focused vehicles.
In the past 10 years, we have seen more advances with in-car entertainment than in the previous 80. With self-driving cars on the horizon, the need for in-vehicle entertainment options will continue to grow.
Remember, in-car entertainment should never include texting. It is important for drivers to stay focused on the road and use defensive driving strategies. If you are a safe driver, we invite you to contact us about the possibility of qualifying for a safe driver discount. Our independent agents work for you, not the insurance company. Contact us today for details.