Adulting 101: When and How Adult Children Become Responsible for Their Own Health Insurance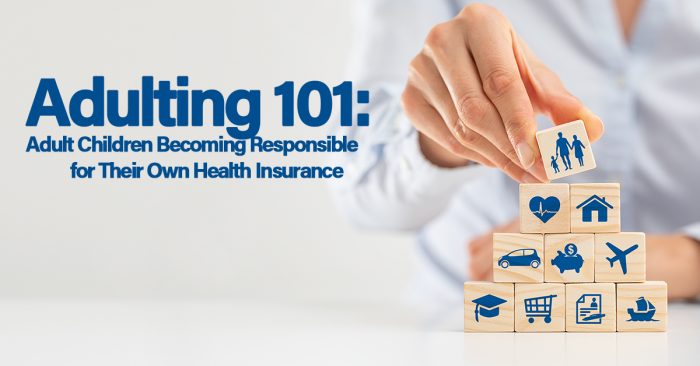 Adulting 101: When and How Adult Children Become Responsible for Their Own Health Insurance
As any parent can attest, time flies. Not only do children grow up quickly, once they reach 16 years of age, time seems to accelerate even faster. In that next decade, most young people will drive, graduate from high school, attend college or start a career and perhaps even marry. One of the last stages of growing into an adult is taking responsibility for one's own health care. Welcome to Adulting 101: Taking Care of Your Own Health Insurance.
Current Coverage Under the Law
According to the United States Department of Health and Human Services, if a parent's health insurance plan covers children, they can add or keep their children on their health insurance policy until they turn 26 years of age. What's more, these adult children can remain under their parent's insurance coverage until 26, even if they are married or not living at home. Furthermore, children can stay covered by parent's health insurance even if they are not financially dependent on their parents or are eligible to enroll in their own employer's plan. Of course, if they are attending school, they can also remain on their parent's plan.
What Happens at 26 Years Old?
Adulting and health insurance reaches a milestone when an adult child turns 26 years of age. Upon a person's 26th birthday, they are no longer eligible for the "under 26" benefits listed above and qualify for a special enrollment period for coverage. This allows them to acquire coverage beyond the traditional Open Enrollment Period.
Once turning 26, an individual should accept a plan offered by their employer, or should seek out a health insurance plan through the Health Insurance Marketplace. One of the last strings attaching children to parents are being cut.
While health insurance may not be perfect, the period to phase in individual coverage for young people is more than generous. This allows families and individuals time to make adjustments in their life throughout a period when people are starting their careers or finishing school. Should you have any questions about health insurance, we invite you to contact our professionals to learn more.