Five Things Even Small Businesses Should Have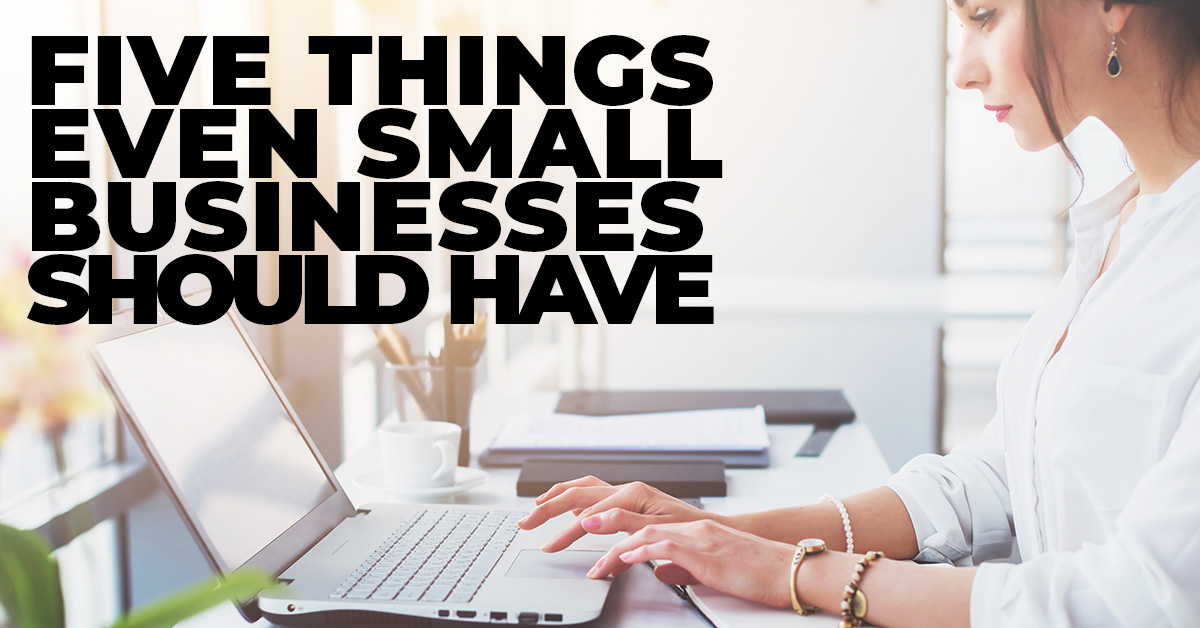 Five Things Even Small Businesses Should Have
There are plenty of things you would probably like to have for your small business. An unlimited budget might be one. But every day, the realities of life force us to proceed with less than desired. Here, however, are five things even small businesses are expected to have today.
A Website
You don't need an elaborate e-commerce web presence, but your customers and prospective customers need to be able to find you on the internet. Social media sites are not a substitute and your website should be mobile-capable. Do it yourself template sites are easy and inexpensive and can serve as a funnel for potential customers to find you.
Consistent Marketing
Even small companies can afford a nice, clean logo and marketing materials that convey a consistent message. Make sure you use the same colors and fonts in all your messaging, from business cards to banner ads to signage. Even staff "uniforms" of khakis and golf shirts can help present a more professional image.
Abundant Payment Options
The last thing you want when converting a sale is to have it fall through because you don't accept their preferred payment option. Make sure you look at all the payment acceptance options that may work for you and your customers.
Some Form of Satisfaction Guarantee
It is understandable that you may not be able to offer a price match or double your money back guarantee, but there are things you can do to make customers feel more comfortable doing business with you. It may be as simple as adding a line to your business card that states, "If You're Not Happy, We're Not Happy" or "Working for 100% Satisfaction."
Memberships in Trade and Civic Organizations
Belonging to civic and trade organizations keeps you connected and involved in your community and your industry. This can not only help you build your business locally, but can also keep you ahead of current trends and technology in your industry. It can be well worth the small fees and time it takes to participate.
Business Insurance
If you have never gotten a quote on business insurance for your company, you may just be shocked at how affordable it is. Business insurance can help protect you from losses due to theft, storm damage, and other natural disasters; vandalism; loss of business; and even liability claims should someone become injured on your property.
We invite you to discover the value of business insurance by contacting one of our independent business insurance specialists. After just a few questions, they can go to work on a business insurance program to meet your needs and budget. Contact us today to get started.