Which States Have the Most…?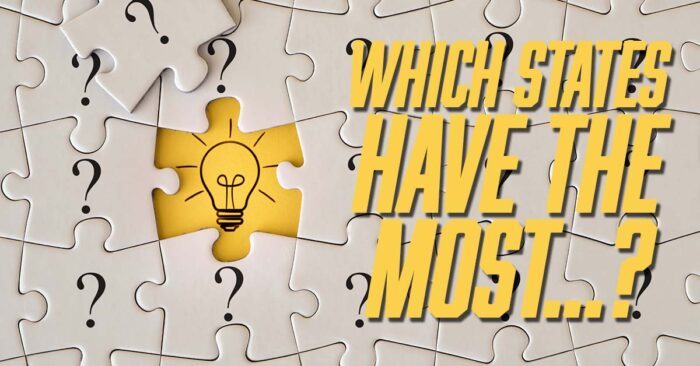 Which States Have the Most…?
States in this country can be competitive. Each one wants to be bigger, better or offer more. States compete with their sports teams, vacation opportunities and even in the number of specific resources they have. Texas and Oklahoma, Florida and Georgia and Ohio and Michigan are just a few examples.
Here are the states which are clearly the winners when it comes to certain assets.
Which state has the most….
Golf Courses
It makes sense that the states with the most golf courses are warm weather states. At the top of the list is Florida, followed by California and Texas. Numbers 4 and 5 are a bit surprising, however, with New York and Michigan making the top five respectively.
Colleges
When it comes to colleges and universities, clearly size matters. The top four states are big ones, with Texas at #1, California at #2, New York at #3 and Pennsylvania at #4.
Military Bases
When you combine all the armed forces, California tops the list of the states with the most military bases, with a total of 32.
Lakes
This depends on the definition of "lakes". Minnesota has the most named lakes with about 15,300. Overall, however, Alaska leads the pack with just 3,200 named lakes but over 3 million unnamed ones.
Major League Sports Teams
When considering the top 4 sports (NFL, NBA, MLB and NHL), California leads the pack by far with 15 teams. Florida is second with 9, followed by New York at 8 (although two play in New Jersey). Texas also has 8, while Pennsylvania has 7 and Ohio has 6.
Ski Slopes
At some point, Vermont and New Hampshire had to make a list and they both made the list of top 8 states with the most ski resorts. At number 1 is New York with 51 resorts, Michigan with 40 and Wisconsin and Colorado each with 31. California and New Hampshire each have 30 resorts, with Vermont home to 26.
Did you know all but two states make auto insurance mandatory or over half of the states in the U.S. can be impacted by hurricanes? For auto, home, life or even business insurance, contact us for your free quote.