First Name Basis: Famous Folks We Know By a Singular Name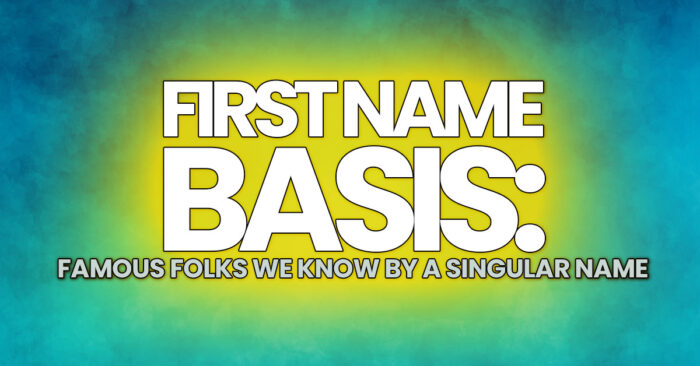 First Name Basis: Famous Folks We Know By a Singular Name
It seems every generation has its share of single-name superstars. Chaplin and Valentino were followed by Sinatra, Elvis and Liberace. They were followed by Twiggy, Cher, Yanni and Prince. Today, there may be more single-name celebrities than ever. Here are just a few of them and how their achieved single-name status.
Madonna
Many don't realize that Madonna's real first name is…Madonna. She was born in Bay City, Michigan in 1958 and named Madonna Louise Ciccone. She was named after her mother, who was of French Canadian descent and died when Madonna was just five.
Usher
The Dallas, Texas native was born Usher Raymond IV. It appears rumors of his name originating from seating people in a theater are greatly exaggerated.
Adele
Adele's real full name is so charming and thymic it is almost a shame just to call her Adele. She was born in Tottenham, England in 1988 and given the name Adele Laurie Blue Adkins.
Sting
If it's hard to believe Sting's real name is Gordon Mathew Thomas Sumner it may be even harder to believe how he got the name "Sting". He got the moniker in 1977 for his penchant for wearing black and yellow jerseys.
Drake
Drake's given name is Aubrey Drake Graham, and he hails from Toronto, Ontario Canada. The musician also has been known by the nicknames Drizzy Drake and Champaign Papi. He is also known for his passion for the Toronto Raptors NBA team.
Pink
How does one go from Montgomery Township in Pennsylvania and the name Alecia Beth Moore to pop superstar Pink? The official story is that she took the name from Steve Buscemi's character Mr. Pink in the film Reservoir Dog's. She, however, has indicated the name is much more personal in nature. Today Pink lives with her husband and daughter in a $12 million mansion in Malibu.
Rihanna
When Rihanna was born in Saint Michael, Barbados she was given the name Robyn Rihanna Fenty. Although spelled a bit differently Rhianna in Welsh means "Great Queen and Goddess". Who can argue?
Eminem
Marshall Bruce Mathers III used his first and last initials to get his rapper name, but he has also been known as just Em and, of course, Slim Shady.
You may not be famous enough to go by one name, but you'll be treated like a rock star by our independent insurance agents. Contact us today for a no obligation review or price quote!