Who Is Your Business Really Competing Against?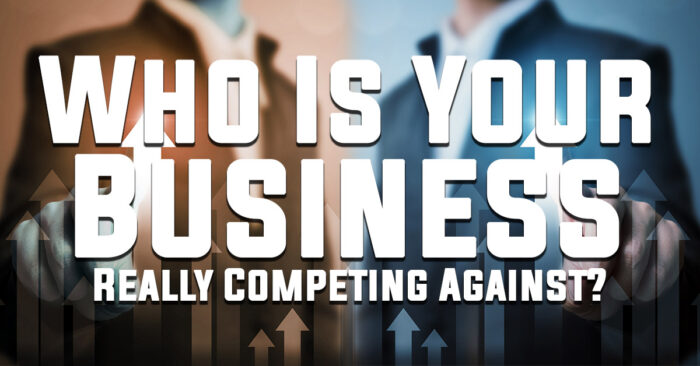 Who Is Your Business Really Competing Against?
Odds are you know who your direct competitors are. These are the companies, businesses and people who offer similar products and services to yours, and who your potential customers may choose over you. Many of us, however, don't recognize the many competitors we face every day who are not directly involved in our business. Becoming aware of these competitors can help position us better to gain in market share. Here are some examples.
Jewelry
One good example is that of jewelers. At first glance, other jewelers would seem to be the competition. But a jeweler attempting to sell a $10,000 piece of jewelry may be competing against a cruise line, a new car or a kitchen remodel. These are the other options a consumer may be considering for that $10,000 other than the jewelry. Jewelers may also find themselves competing against a more expensive wedding dress, larger wedding reception or honeymoon.
Real Estate
Real estate agents may feel they are competing with other agents, but in fact, may be in competition with an attractive apartment community, new home builder or even a fixer-upper. A real estate agent may also be in competition with a college education or even children!
Gym Memberships
Many gym memberships are sold on the prospects decisions to get in shape or become healthier. The reality is, the competition may be purchasing their own at-home equipment or giving up that office space to create an at-home gym. You may even be competing against the time it takes to drive to and from the gym and using spare time to binge stream or go to the movies.
Most businesses are competing with far more than just their direct competitors. They are battling a variety of options consumers may have for their disposable dollars. This can be extremely valuable to know before focusing too much on just your direct competitors when talking with prospects.
You have similar choices in your business. Should you buy a piece of equipment or hire a new employee? Do you invest in marketing or upgrade your digital infrastructure? One thing is for sure. You should always take prudent steps to protect what you already have invested in your business, and that can mean starting a solid business insurance plan. We can help, and it may be more affordable than you think. Contact us to discuss your business, your risks and to get a no obligation quote. Like your potential customers, you have choices. Putting your business at risk shouldn't be one of them. Contact us today.