Jewelry, Termites, and Flooding: What Your Homeowners' Insurance May Not Cover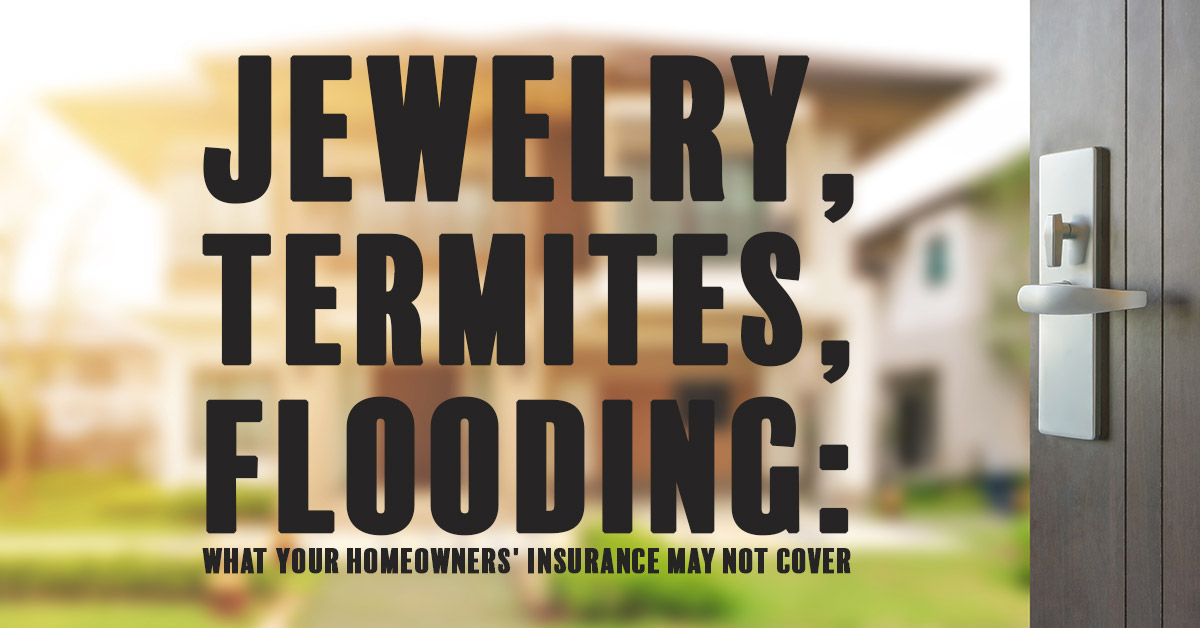 Jewelry, Termites, and Flooding: What Your Homeowners' Insurance May Not Cover
It happens every day. People discover following an accident, fire or healthcare challenge that their insurance does not cover them to the extent they assumed it did. We have stressed repeatedly the importance of gaining a better understanding of your insurance protection prior to a claim to limit unpleasant surprises. It is why an insurance review is so critical. This is particularly true for homeowners' insurance which is often forgotten once it is secured upon the purchase of a house.
There are three areas, in particular, homeowners should be aware of when it comes to homeowners' insurance limitations. The three may seem unrelated and it is one of the reasons understanding your coverage is vital.
Floods
Homeowners' insurance policies do not come with flood protection as part of their overall protection. Flood insurance is managed by FEMA through insurance agencies across the nation, and is offered on a case-by-case basis. If you do not have separate flood insurance coverage, you are not protected from rising waters. What's more, homeowners can't wait until the last minute to seek coverage. There is a 30-day waiting period for flood insurance protection to become effective after purchase. To understand the difference between water damage and flood damage, contact your independent insurance agent.
Jewelry
It is likely your homeowner's insurance policy will offer some protection for jewelry that may be lost, stolen or destroyed. The issue can be that the limits to this protection are often much lower than the actual amount of jewelry a homeowner may have. Limits to jewelry loss may be $1,000 or $2,000 in some cases, frequently not enough to cover an engagement ring or wedding band. Over years, many families acquire significantly more value in jewelry than this. This is another reason why reviewing your homeowners' insurance protection is important. Increasing these limits is often easy and affordable. Your independent insurance agent can help.
Termites
Even with homeowners' insurance, homeowners are charged with maintaining their home properly. Damage from lack of maintenance may not be covered by your homeowners' insurance policy. This includes termites. Homeowners are expected to have their homes occasionally inspected for termite infestations and to take necessary steps for treatment. If termites were to cause unchecked, structural damage to a home, homeowners' insurance would not likely cover the damage.
While these are pretty specific examples, the point is knowing in advance is better than reacting too late. Contact us to discuss your homeowners' insurance policy. Let us get you a no-obligation quote on the coverage you expect and deserve.