When Did Super Bowl Halftime Shows Become Such a Big Deal?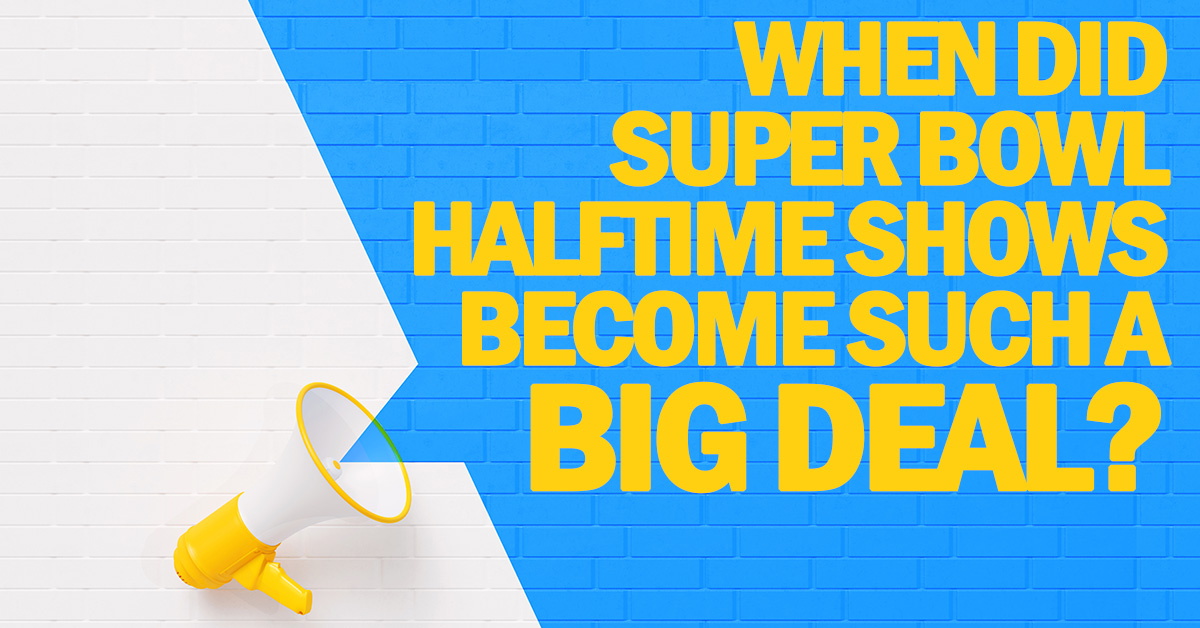 When Did Super Bowl Halftime Shows Become Such a Big Deal?
Did you know the NFL World Championship wasn't called the Super Bowl until its third year in 1969? Back then, the commercials during the game were routine (and much less expensive), and the halftime shows were more traditional.
In 1967, for example, the 15-minute halftime show featured the University of Arizona Symphonic Marching Band, with an appearance by the Grambling State University March Band and a performance by trumpeter Al Hirt. Even Anaheim High School's drill team and flag girls got in on the act.
Grambling State reappeared in Super Bowl II in 1968. The 1969 game was played in Miami and featured the Florida A&M University Band along with a compilation of band members from area high schools.
In Super Bowl IV, the halftime show began to evolve with "A Salute to Mardi Gras" and appearances by Al Hirt, Doc Severnson, Carol Channing, Lionel Hampton, and the Southern University Marching Band. The trend of "featured performers" continued for the next several years, with Anita Bryant and Up with People, Woody Herman, Andy Williams, The University of Michigan Marching Band, and others contributing to the halftime shows. During this period, Al Hirt, Up with People, and Grambling made multiple appearances. There was even a show where comedians Mickey Rooney and George Burns were featured performers.
It was Super Bowl XXV in Tampa, Florida, however, when the Super Bowl halftime show really began to become a big deal. That year, the boy band New Kids on the Block made an appearance, bringing the game to a whole new audience. The halftime show itself became destination viewing in 1991, and continued from that point forward with performances by Gloria Estefan, Michael Jackson, Clint Black, Patti LaBelle, Dianna Ross, and more.
Since then, we've witnessed amazing performances by Prince, Lady Gaga, Madonna, and others. It really all started, however, in 1991, when New Kids on the Block made the Super Bowl halftime show a big deal.
Are you making a big enough deal of your insurance protection? You should review your life, homeowners, automobile, and business insurance annually. If not, you could have gaps in coverage or even be paying too much. Contact us for a no-obligation review and price quote today!