Features that are Attracting Home Buyers Today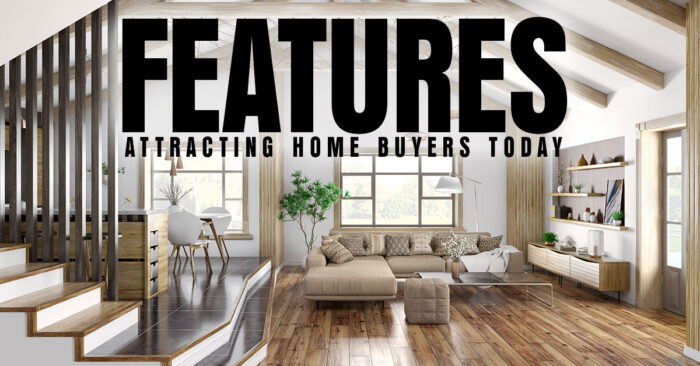 Features that are Attracting Home Buyers Today
There is an old expression about real estate that says the three most important factors when buying a house are "location, location and location." While there is still a great deal of truth in that, if you are considering selling your house, there's not much you can do about its location. There are, however, upgrades that you can undertake that will make your home more attractive to today's buyers. Here are some of the features that are attracting buyers today.
Security Features
No matter where one lives, they want to feel safe and secure in their homes. That makes safety and security features a big draw for potential buyers. Here are some upgrades to consider.
Upgraded front door. Upgrading your front door to one made of steel or other stronger material can be a very attractive yet affordable feature. Be sure to include deadbolts and have it installed with longer screws in the hinges for added strength.
Extra strength windows. Stronger windows not only improve security but also improve insulation from temperatures and noise.
Security systems. Homes that have fire and burglar alarms have an appeal for today's buyers, even if they are unmonitored. Even placing battery operated fire and smoke alarms in various rooms can help potential buyers feel more comfortable about your house.
Smart Features
More new home are being constructed with smart features, meaning homes that at least have a few are more appealing. Popular smart features include those involving lights, appliances and HVAC systems. Even smaller touches like upgrading electrical outlets to those that include USB charging ports can make prospective buyers feel the home has been upgraded.
Luxury Showers
Large spa-like, walk-in showers bring a certain "Wow" factor to a home. Large two-person style showers that include natural stone, rainfall shower heads and built-in seating are proving particularly attractive. Smooth-sliding glass shower doors are also a plus.
Thinking about selling your home? Invest in the upgrades buyers are looking for. Smart and security features and luxury showers may not be as critical as location, location, location but they can sure help.
When you make significant upgrades to your home, make sure you notify your homeowners' insurance agent of the upgrades. Safety and security features may potentially qualify you for discounts. Other upgrades may upgrade the value of your home. Keep your homeowners' insurance upgraded with a call to one of our independent insurance agents.