Insurance Fraud. Yes, It's a Thing and Yes, It's a Crime.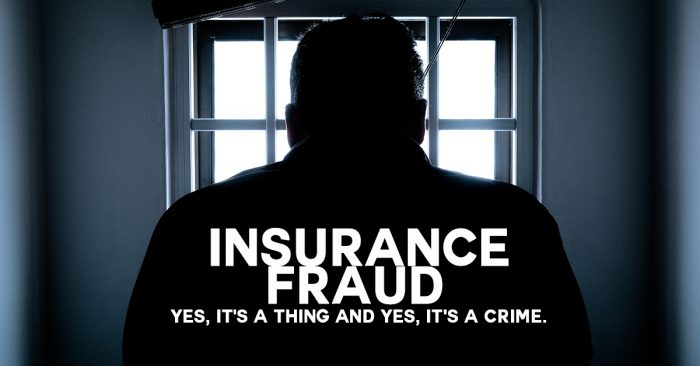 Insurance Fraud. Yes, It's a Thing and Yes, It's a Crime.
Insurance fraud is defined as any act related to obtaining improper funds from an insurer in regard to an insurance claim. The severity of insurance fraud ranges from homeowners overstating the value of some of their personal property in a claim to doctors filing for payments for services never provided. Insurance fraud costs insurance firms and their policyholders billions of dollars annually.
It is also illegal.
Before you say "Not me" when it comes to insurance fraud, take a look at some common practices.
Car Insurance
Car auto insurance policies are ripe for insurance fraud. Common forms include getting inflated estimates to cover a deductible, not fixing the vehicle with settlement funds or attempting to get previous damage included in a damage claim. Insurance fraud can even start in the application process when an insured underestimates their driving mileage or "forgets" to mention a licensed driver in the family.
Health Insurance
Health insurance fraud can occur on both the insured and provider sides. Providers may bill the insurance company for services never provided. Insureds may overstate how healthy they are to secure better, more affordable coverage. If you've ever reviewed a hospital bill you understand how complicated the process can be.
Staged Claims
Some insurance fraud is pretty straightforward. This type of fraud includes staging losses to make claims against an insurance company. This can include burning down a failing business or staging an automobile accident to secure funds dishonestly.
If you file an insurance claim and feel like you may be asked some uncomfortable questions, it may be to limit insurance fraud. Insurance companies need to perform their due diligence in determining claims are legitimate. In spite of these efforts, fraudulent claims are filed daily.
There is a tendency for insured's to try to "get the most" out of an insurance claim, and that to some degree is understandable. Just be cautious about crossing the line into an area of insurance fraud.
The best way to get the most from your insurance budget is by seeking the assistance of an independent insurance agent. Our agents can compare rates from multiple insurance companies getting you a better rate for the coverage you desire. Contact us and let our independent agents go to work for you!