Forgotten Sports Franchise Moves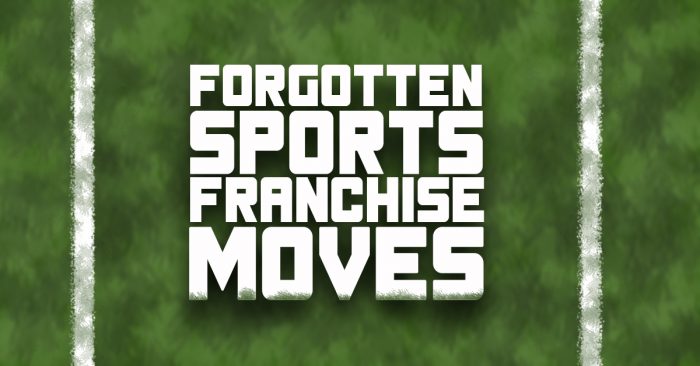 Forgotten Sports Franchise Moves
There are few things all of us can agree upon. One of them is that moving is a hassle. Heaven forbid you own a full-size pickup truck or a van. Sometimes there is just not enough pizza and beer. But what if you are a sports franchise? Can you imagine the problems associated with moving a professional sports team from one city to another? Along with all the "stuff", there is the baggage a franchise "brand" may carry.
Soon the Oakland Raiders will become the Las Vegas Raiders but that is just the last in a long line of sports franchises that have been transplanted. Moving sports franchises is not a new phenomenon. Here are a few of the more notable ones that may have already been forgotten.
The NBA
Did you know the Detroit Pistons were once the Fort Wayne Pistons or that the Lakers played in Minneapolis until 1960? In 1962 the Philadelphia Warriors moved to San Francisco and became the San Francisco Warriors and ultimately the Golden State Warriors. Cincinnati once had an NBA team called the Royals who played some of their home games in Cleveland. They then moved to Kansas City and shared a schedule playing home games in Omaha for several years.
Major League Baseball
In 1958 two New York baseball teams moved out West. The Brooklyn Dodgers became the LA Dodgers and the New York Giants moved to San Francisco.
In 1962 the Washington Senators moved to Minneapolis to become the Twins. Washington was then granted a new Senators team, but they too moved, becoming the Texas Rangers in 1972. Then in 2005, the Montreal Expos moved to Washington to become the Nationals. Keeping track?
The National Football League
Perhaps no sports league has had more intriguing sports franchise moves than the NFL. The Cleveland Rams moved to Los Angeles in 1946 to start the frequent miles parade for the franchise. They moved to St Louis in 1995 and moved back to LA in 2016. You don't even want to get started on the St. Louis Cardinals NFL moves. The Cleveland Browns meanwhile, had their franchise move to Baltimore in 1996, although the league said Cleveland could still keep the Browns name and colors. Colors or not the team has struggled ever since. In 1997 the Houston Oilers moved to Memphis but then moved to Nashville to become the Titans. It was almost more of a commute than a move.
Moves are a Part fo Life
Whether it is a sports franchise or your family, moves are a part of life. When changing circumstances, it is important to make sure you have the appropriate insurance coverage. We can help you with low-cost renters or homeowners' insurance to suit your changing needs. Contact our independent agents to make sure you are properly prepared for your next move.