Your Car: When Was the Last Time You…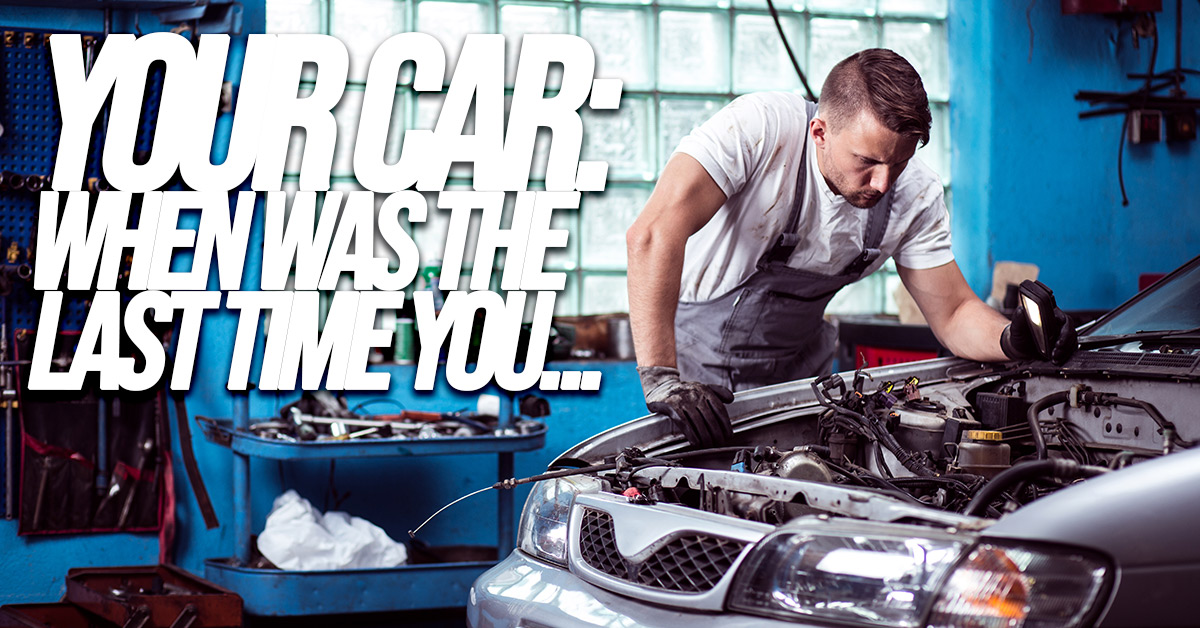 Your Car: When Was the Last Time You…
There are about 287 million registered vehicles in the United States. With about 300 million Americans, it gives you an idea about how prevalent access to a car is in the United States.
We used to have a much more personal connection with our cars. Many of us changed our own oil and replaced air filters. Today…not so much. So it begs the questions, when it comes to your car, when was the last time you…
Changed oil
Even if you don't physically change your oil and filter yourself, do you remember the last time you had it changed by someone else? You should change oil every 3,000 to 5,000 miles.
Checked your tires
Your tire's air pressure will impact tire wear and even the gas mileage your car achieves. When was the last time you checked your air pressure or even ran your hand along the side of your tires to feel for bulges. It is also a good time to check tire tread to make sure it is sufficient and even.
Cleaned Your Car's Interior
Giving your car's interior a good cleaning helps maintain its value and keeps you in touch with the wear and tear your car's interior is experiencing. It could be a good time for seat covers or a good detailing.
Washed Your Car
There are a lot of benefits to washing your own car, at least once in a while. You may discover new dents or rust spots or a piece of trim came up missing. There may be no better way to keep in touch with the shape of your vehicle than with a hand wash once in a while.
Checked Your Lights
Do you really want an officer of the law to point out one of your headlights, taillights or turn signals is inoperative? Checking all of your lights may only take a minute or two but may save you an expensive citation.
The point is sometimes it doesn't take much to keep in touch with your car to save you money. It is the reason you should have an automobile insurance review every few years, if not sooner. Getting rate quotes may save you significantly on your automobile insurance premiums. These are savings you may otherwise miss. Contact us today for a no-cost, no-obligation quote on your automobile insurance.