"You Might Need Life Insurance If…"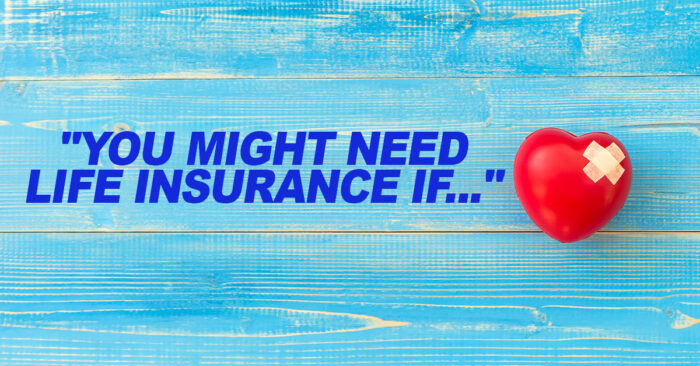 "You Might Need Life Insurance If…"
Traditionally, life insurance has usually been focused on the breadwinner in the family. This is the person who provides most of the income for a family that would need to be replaced should that person pass. As the roles within families have changed, however, and more become aware of the value of life insurance, families are realizing the value of life insurance for other family members as well.
It is with this thought in mind, you might need life insurance if…
You earn the majority of income in a family. This hasn't changed. Life insurance is very beneficial in replacing the income of a family member who contributes the most to the family's finances.
You are a secondary earner of income in a family. Many families count on the income of both parents to sustain a certain lifestyle. Two incomes are often needed to make mortgage payments, pay for daycare and maintain a certain standard of living.
You are a new parent. Responsibilities change dramatically once becoming a parent. This is a responsibility that will last for decades and may include the cost of a college education. When you become a new parent, it is a key time to review your life insurance needs.
You've just purchased a home. Purchasing a home can result in hundreds of thousands of dollars in debt. In a premature death, this may lead to the loss of the home. Life insurance has traditionally been used as a vehicle to pay off a home loan in the event of the death of a mortgage holder.
You are a college student. It may not seem like life insurance would be a priority for college students. Consider, however, by the time a young person is working their way through college, they likely already have credit card and student loan debt. Even a modest amount of life insurance can help clear these debts in the event of an untimely death.
You don't have savings for final expenses. Remember, final expenses not only include funeral expenses, but any medical or other debts that may occur.
Even young children can benefit from whole life insurance policies that can grow in value as they get older. If you have questions about life insurance or would like to get a free, no-obligation quote, we invite you to contact one of our independent agents. They can compare rates from multiple companies. In the end you make the decision. Get started started today.