Why Would I Need Business Insurance If I Don't Have a Storefront or Inventory?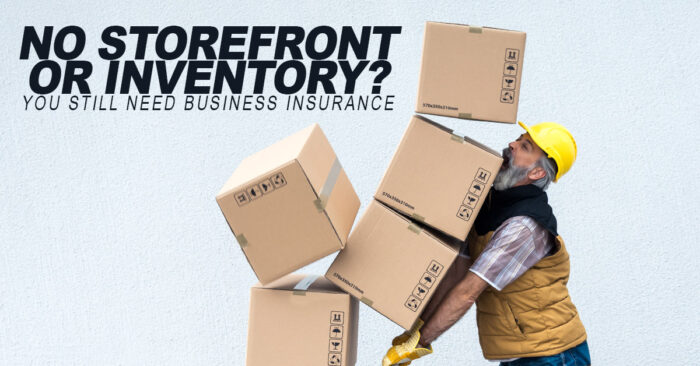 Why Would I Need Business Insurance If I Don't Have a Storefront or Inventory?
Today, more and more businesses are operating nearly completely virtually. They may have a small office or even a home office. There may be no on-site inventory or employees. Many companies just deal in services, information or consulting. This can lead to minimal expenses in labor, rent, storage and utilities. It will not however, eliminate the need for business insurance. Here are some reasons why.
Home Owners' Insurance Will Not Protect Home-Based Businesses
A home-based business is still a business. This means your homeowners' insurance may not cover business equipment, furniture, electronics or even provide protection in a liability claim. Home-based business insurance can be very affordable. It is not worth the risk of going without.
Even a Small Rented Office Increases Your Risk
If you conduct business out of a small, leased space your risk of being subject to a liability claim increases. If you are meeting with clients, customers or vendors on space you control, you could be held liable for any injuries that occur in that space.
Responsibility for the Actions of Your Employees
Whether you have a storefront or not, you are still responsible for the actions of your employees while they conduct business-related activities. They may be conducted off-site or in the homes of customers where you can be held liable.
Your Business Activities Could Be Interrupted
Business interruption insurance can protect your income should there be a covered claim that shuts your business down.
This could be a fire or other natural disaster.
Errors or Omissions Coverage
If you offer professional services like financial, legal or medical advice, you could still be held accountable for malpractice or errors and omissions whether you have a physical location for your business or not.
Businesses are becoming increasingly unique in how they conduct business. Video conferencing, remote workers, social distancing and work from home strategies are becoming increasing popular and accepted. These changes may alter some of the coverage you need as a business owner but you will still have risks. Our independent business insurance agents will be glad to discuss your evolving situation. Contact us today for a business insurance review and quote. You may be surprised at just how affordable a custom business insurance plan can be.