Reachable, Achievable Goals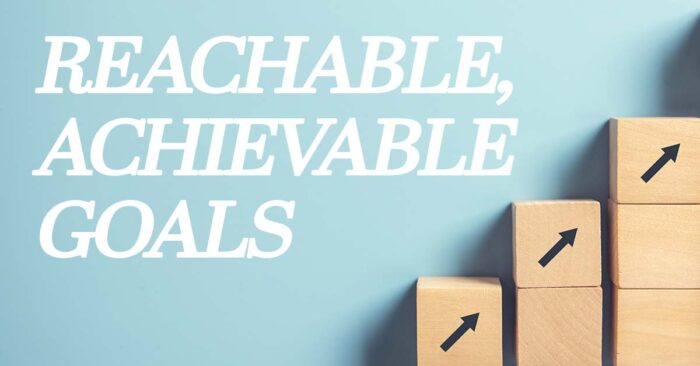 Reachable, Achievable Goals
Somewhere along the line, we have all been exposed to the benefits of goal setting. The benefits of thinking about, deciding upon and even writing down goals.
There was a time when setting big goals was popular, with the belief that coming up a bit short on large goals is still extremely productive.
Today, making reachable or achievable goals has gained in popularity. The thought is achievable goals help build an atmosphere or environment of success which creates an attitude of achievement.
There is merit to the concept in that if goals are too large or seem impossible to reach, we may either not attempt to achieve them or give up on them too easily.
What are some examples of reachable or achievable goals?
Lose 5 Pounds
This is pretty simple. You can't lose the 35 lbs. you really want to achieve if you don't lose five. So why make 35 the goal? Make losing 5 lbs your goal and then make another reachable goal.
Have a $200 Slush Fund in Your Wallet or Purse
Sure, we all want to build financial wealth, but just having an extra $200 in cash tucked away in your purse or wallet can be rewarding. It can be incentive enough to go on and create small but achievable savings goals and build upon that.
Pay off a Debt
We can become overwhelmed with the sheer number of debts we have. Start eliminating them, one by one. Your goal may be to be debt free, but your reachable goal is to eliminate one at a time.
Don't Add a Debt without Eliminating a Debt
If you don't think you can eliminate debt, at least make the commitment to not add a debt until you have eliminated one. This is easy, straight-forward and achievable.
Making goals more bite size can set you upon the right track to bigger goals. No matter whether your goals are physical, financial or personal, you can achieve them by making them reachable.
The same can be said for life insurance. You don't need a $1 million life insurance policy all at once. You can buy $100,000 or $200,000 and build upon it. Contact us to get started. Our independent insurance agents can help you find budget-friendly rates for your circumstances. We look forward to assisting you.