Activities for the Family to Keep Everyone Fit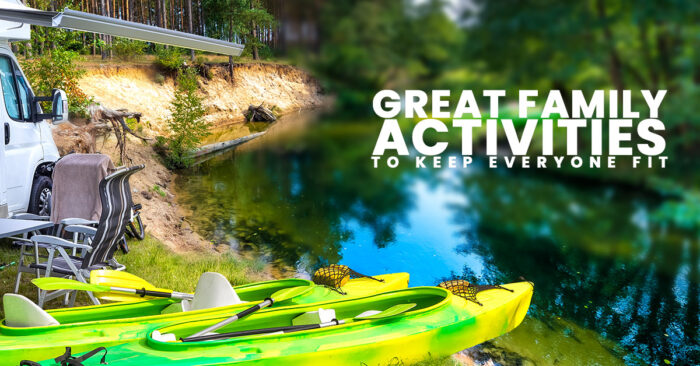 Activities for the Family to Keep Everyone Fit
You may enjoy watching your son or daughter from the bleachers, but it is doing nothing to improve your heart health, reduce your cholesterol or help you lose weight. It may be fun watching a football game on TV together but that is not helping you build muscle or trim down.
Here are some activities the whole family can do to stay active, maintain fitness and build memories.
Bicycling
Bicycling around the neighborhood can be fun but heading out to a bike trail or paved "rails to trails route" can turn into an hours long adventure. Pack some beverages and snacks and preplan your route on a designated path. They are safer than biking on the road are a nice way to get some needed exercise while enjoying the outdoors.
Canoeing and Kayaking
If you have lakes or rivers nearby, explore the opportunities for canoeing or kayaking. Canoeing, in particular, will help build balance and core strength while, of course, exercising arms, shoulders and upper backs. Bring along a cooler and sandwiches and make an afternoon of it. Don't forget the suntan lotion and bug spray.
Hiking
You don't necessarily need mountains or even hills to go hiking. Many state parks have hiking trails where you can get some exercise while enjoying Mother Nature. Maybe you can begin to appreciate bird watching or keeping an eye our for squirrels, chipmunks or deer.
Jogging
A marathon doesn't have to be in your future to enjoy jogging. You may enjoy it enough to join in on a community 3k or 5k as a family. It is a terrific way to get the family involved in a charitable or civic event while investing in your physical health and well-being.
Swimming
If you have a community pool or YMCA, you may have access to swimming as a family activity. Swimming is low impact but a great way to exercise most parts of the body. It may also present a way to teach younger family members potentially life-saving skills they'll have for a lifetime.
Enjoying life, happiness and heath is something to be appreciated and protected. In the scheme of things, life insurance is such an easy and affordable task to accomplish, every family should have it. We would be honored to help you secure your family's future. Contact us today for a no obligation life insurance review and quote.