Why "Your" Business Isn't Just YOUR Business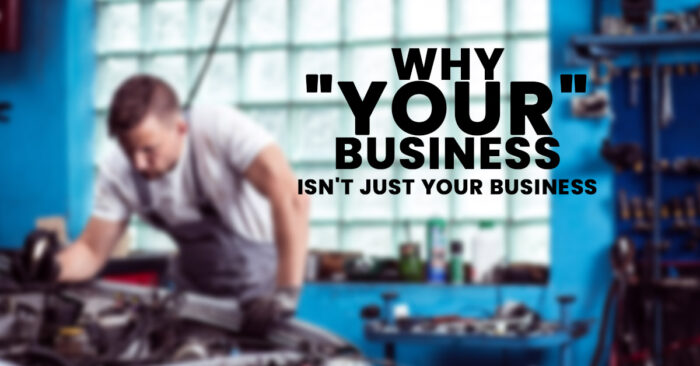 Why "Your" Business Isn't Just YOUR Business
You worked hard at starting your business. You've had your own motivation, and you've ridden them to the point where you are on your own. Perhaps you got laid off and promised yourself "never again". Maybe you got tired of being told to do things that went against your ethics or beliefs. Maybe you just wanted control of your own destiny.
It is terrific to feel like you are on your own, but the fact is you aren't. It may be even more surprising to realize you don't likely WANT to be on your own. No, it may be that your business isn't just your business. Here are some reasons to embrace why that's a good thing.
Your Family
Most entrepreneurs have amazing support from family to succeed. If family members aren't actually helping you run your business it is likely they are supportive in a number of other ways, including your long days and limited accessibility.
Employees
If you have employees, they certainly have an interest in your success. You, after all, are providing a paycheck and your success is their success. Having a supportive group of employees that share in your goals is invaluable.
Customers
Successful business' work years not just in recruiting customers, but in getting them to depend on their business. Your customers rely on you for having the right part, cooking their steaks a certain way or in fixing a problem they have. You are doing some very good things if your customers depend on you.
Vendors and Suppliers
You may not give it much thought but your vendors and suppliers depend on you much like you depend on your customers. They count on you every day to do the right things to stay in business and grow your business, so they can grow theirs. When times get tough, you may be surprised with how supportive your vendors and suppliers can be.
This doesn't even include people like your banker, landlord, local schools and non-profits who count on local businesses for support. Yes, you may have started your own business to be your own boss, but you may not really want to be totally "on your own".
This is why it is so important to protect your business with at least an adequate business insurance program. You may not need extensive coverage or all the "bells and whistles" but if you are lucky, there are plenty of people around counting on you to keep your business going.
Contact us. Let's talk about protecting your business for you, and everyone who is counting on you.