Own a Bricks and Mortar Business? Look Out for These Liability Risks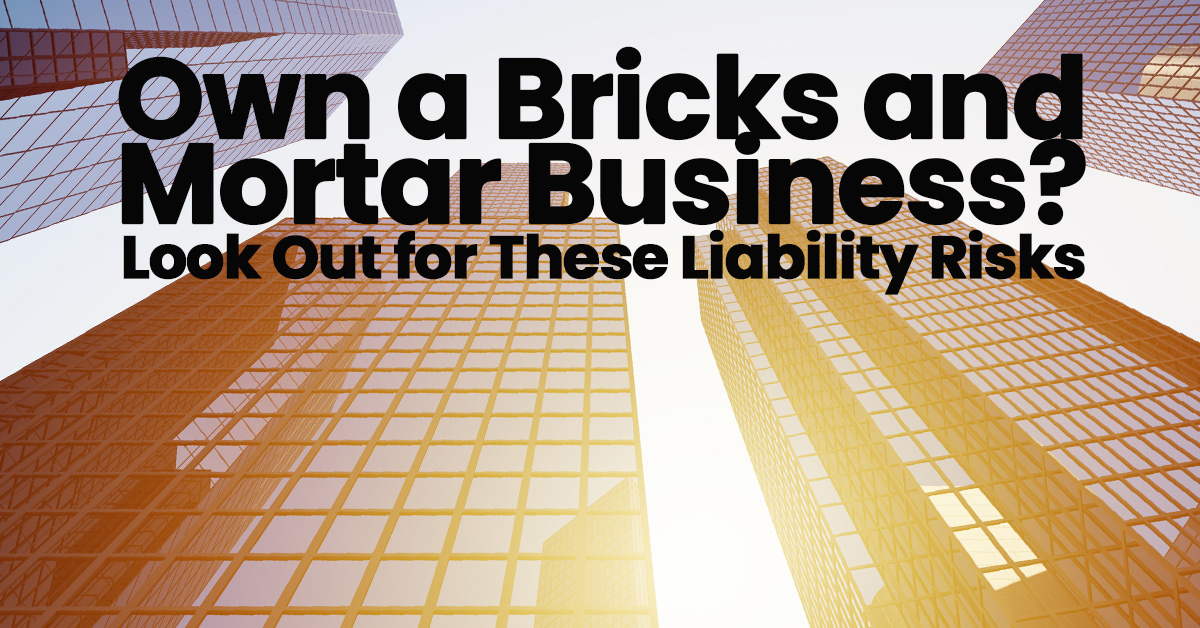 Own a Bricks and Mortar Business? Look Out for These Liability Risks
There are many benefits to owning a bricks and mortar business, especially if you are a "people person". Bricks and mortar businesses allow you to physically meet your customers and build strong relationships. They provide an opportunity for you to grow and become an integral part of your community. While online and digital business is conducted at arms length, bricks and mortar businesses seem to be much more personal and one-on-one. But there are additional risks with owning your own physical business and inviting customers onto your premises. Here are some of the liability risks to be aware of if you own a bricks and mortar business.
Slip and Falls
One of the highest risks of liability claims for a business results from slip and falls, or sometimes called slip, trip and falls. This is where a visitor, customer or delivery person injures themselves by falling while on your property. If the injuries are significant enough, it could result in a lawsuit. While a business owner needs to be diligent about monitoring conditions that could cause a slip and fall, they likely will have no liability when actions taken are reasonable in preventing harm. After all, a business owner cannot be expected to anticipate any and all possible accidents that can occur. That being said, if a business owner is aware of circumstances that could create a hazard to visitors, they can be held negligent if they don't address those issues appropriately and within a reasonable time.
Other Injuries to Customers or Damage to Property
Whether on your premises on in the field, your company is liable for the actions of its employees. That means if an employee harms someone while conducting business for your business, you can be held liable. This includes injuries from falling equipment, someone tripping over an extension cord on a worksite or a piece of equipment falling from a work truck on the highway.
Company Vehicles
Many businesses who own bricks and mortar business also own a company vehicle or vehicles to conduct business. Personal car insurance is insufficient to cover these business-use vehicles. Business owners need to obtain appropriate vehicle insurance to cover these vehicles and are also responsible when employees use their own vehicles in conducting company business.
Of course, business owners who have a bricks and mortar business need also be concerned about theft, vandalism, losses from fires, water damage, storm damage and more. There are rewards to owning this type of business, but there are also risks you should be prepared for.
If you have a business, let's discuss your risks and how we can minimize them. Contact us for a no-obligation business insurance quote today!