8 Universally Loved Women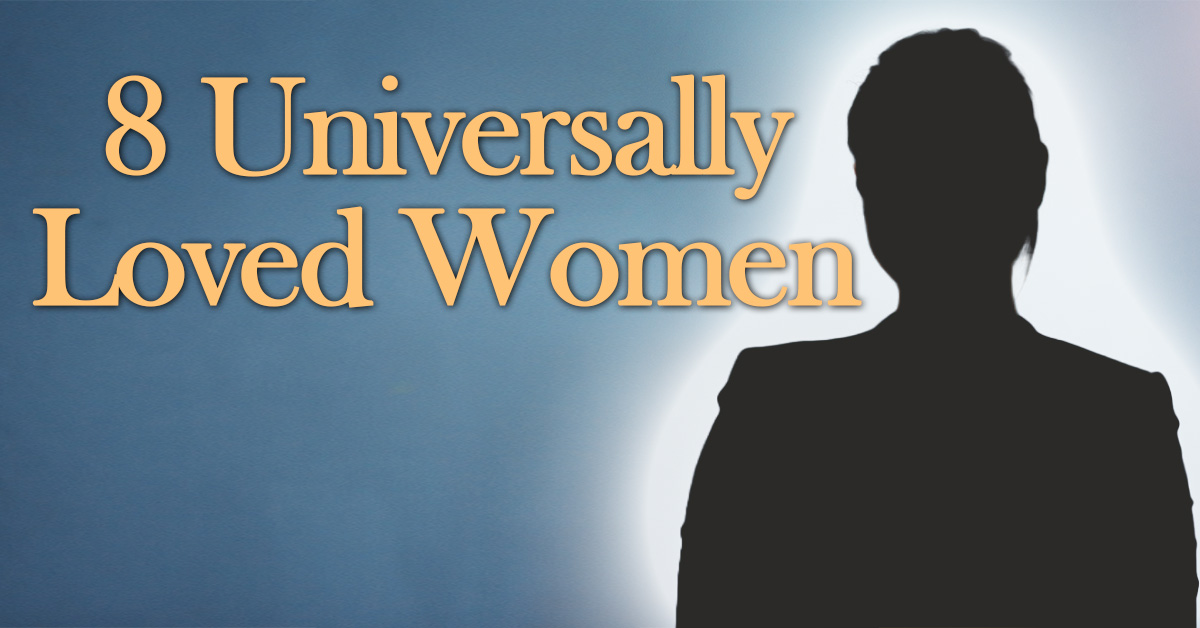 8 Universally Loved Women
It is not easy to create a list of almost universally loved humans. Politicians have their detractors, and even actors who are appreciated may take on the roles of some unlovable characters. There is a list of women, however, who have seemed to break through the mold and are loved by men and women, young and old alike. Here are eight virtually universally loved women.
Princess Diana
There was a certain grace, beauty, and humbleness about Princess Di that was endearing to all of us. Most of us also asked the same question about her: "Why did she marry him?" In her time as Princess, she served as president or patron of over 100 charitable organizations. Although few knew her well, she made us all feel like we did. Gone like a candle in the wind at just 36 years old.
Dolly Parton
Cute, funny, brash, and far smarter than she often lets on. Dolly Parton has transcended the world of country music to be beloved by millions. Today, she is believed to be worth over 600 million, has a Tennessee amusement park named after her, and is the godmother of singer Miley Cyrus. Her genuine laugh and charming southern accent are infectious.
Sally Field
From the Flying Nun to racing across the South with Burt Reynolds in Smokey and the Bandit, Sally Field has made us laugh, smile, and cry. She played award-winning, legendary characters in Norma Rae, Places in the Heart, Steel Magnolias, and even appeared in Forest Gump. She always seemed to be the lovable, slightly saucy girl next door.
Betty White
Betty White spent an incredible seven decades in television, both in front of and behind the cameras. Much of her most memorable work came in the second half of her life. She had a "I know something you don't know" smile and made being a bit naughty cool. If anyone had gone before her time after passing at 99, it was Betty White. Thank you for being a friend.
Mary Tyler Moore
Mary Tyler Moore jumpstarted her career as Laura Petrie on the Dick Van Dyke Show, but became an iconic role model for the modern woman in The Mary Tyler Moore Show. Women wanted to be her and men wanted to be with her. We were all fortunate when another on this list, Betty White, played Sue Ann Nivens alongside Mary in the Mary Tyler Moore Show.
Carol Burnett
Carol showed us all that being funny could still be ladylike. She exuded a caring personality and pushed the boundaries of comedy for both men and women. She had us at her coy smile and a tug of her ear.
Cher
Even when she towered over husband Sonny Bono on TV, the wisecracking Cher still showed us some vulnerability. She would go on to inspire millions with her strength and social agenda.
Sandra Bullock
While certainly not on a level with Princess Di or Betty White, most find a certain appeal to Sandra Bullock, whether she is driving a bus in Speed, in outer space in Gravity or playing the role of mom in The Blind Side. She is simply an exceptional actress who is very likable.
Few of us like discussing insurance, but it is prudent to have your auto, home, life, and business insurance policies reviewed occasionally. It is the best way to keep your coverage on track and to ensure you are getting competitive pricing. Contact one of our independent insurance agents today for a no obligation review and price quote today.