Most Common At-Home Accidents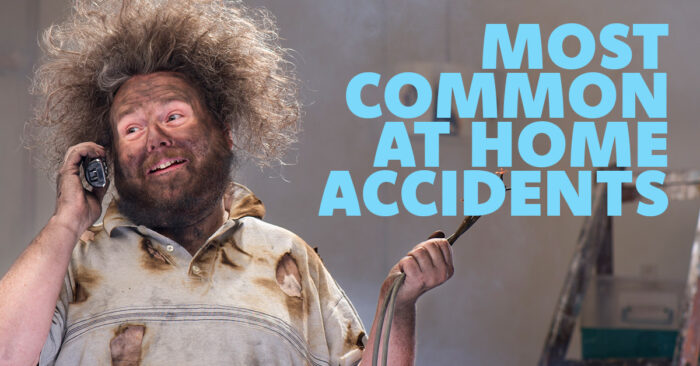 Most Common At-Home Accidents
We generally think of household accidents as minor. In 2019 however, over 131,000 people died due what are called "preventable accidents" in the home. This is three times as many people who on average, die in auto accidents each year. It seems some of us are more prone to household accidents than others, but what are the most common accidents that occur at home?
Drowning 
The most common causes of drowning include lack of swimming skills, , lack of barriers, lack of supervision and alcohol use. If you have a pool, make sure access is limited and children are never left unsupervised when enjoying it.
Burns
Burns can occur from a variety of causes. They can occur from open flames, hot liquids, steam, a cooktop or oven. Burns are measured in terms of severity, with fourth degree being the most severe, followed by third, second and first degree burns. Even mild burns can cause a great deal of pain and infection is always a risk with severe burns.
Poisoning
Poisoning is particularly problematic when small children or the elderly are in a home. Poisonings can come from ingesting household products, cleaning fluids or the wrong medicine.  Estimates place poisoning deaths at over 60,000 annually.
Cuts
While cuts are the second most commonly occurring household accident injury, they are seldom fatal. Of course, most cuts occur in the kitchen, but they can also occur in the garage or when performing yard work.
Falls
Falls are the most common cause of injuries around the house, specifically for young children and older Americans. One in four Americans over the age of 65 will be injured in a fall in any year and one in five will sustain an injury like a broken bone or head injury. Homes can be made safer for older persons through walk-in showers, taller toilets, handrails and other steps to create easy access living.
Homeowners may not be fully aware that they can be held responsible should a friend, relative, worker or delivery person suffer an injury in their home or on their property, especially if the injury could have been preventable.
This is just one of the reasons homeowners' insurance is so valuable. Homeowners' insurance can cover the legal and judgement or settlement costs associated with an injury accident that occurs on your property. Contact one of our independent insurance agents to learn more and to obtain a free quote. We look forward to assisting you.