Seven Dishes College Students Must Know How to Make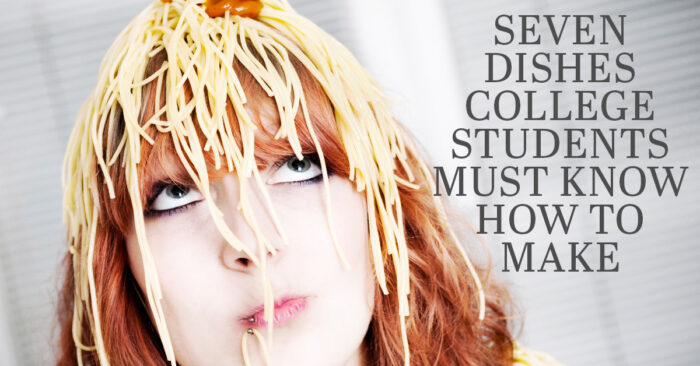 Seven Dishes College Students Must Know How to Make
If you or a child will be heading to college soon, they shouldn't leave your home without some kitchen skills. They may not be the next Master Chef, but they certainly can learn to make enough meals to keep themselves fed. Here are a week's worth of meals every college student should know how to make on their own.
Ramen Noodles
It may be hard to find a college dorm room without a package or twelve of Ramen noodles. They are cheap, easy to make, come in a variety of flavors and have a salty goodness college students appreciate. If you can boil water you can understand why this is a staple of the college student's diet. Don't know how to make Ramen noodles? Don't leave the house.
Macaroni and Cheese
Who doesn't enjoy a good macaroni and cheese dish? Even if it comes out of an oblong box, it can still fill the belly and hit the spot. It is just about as easy to make as Ramen noodles unless you decide to add some milk for an extra creamy texture.
Hot Dogs
Whether you boil them, steam them, grill them, fry them or microwave them, hot dogs are an easy way to get protein into the college diet without having to wash too many dishes. They can even be cut into slices an added to a can of baked beans for an exotic taste sensation.
Spaghetti
The great part about spaghetti is your recipe will improve as your skills grow. Start with a simple jar of sauce and spaghetti noodles and eventually add your own ground beef, green peppers, onions, sliced carrots and more. Add a garlic bread stick, some lettuce and salad dressing, and you practically have a date night meal.
Grilled Cheese
Two slices of bread buttered on one side and a couple of slices of cheese between them, and you are on your way. There's nothing like the satisfaction of a perfectly grilled sandwich. Add some different cheeses if you are feeling bold. This pairs well with tomato soup.
Sloppy Joe's
A can of sloppy Joe mix and a pound of fried ground beef mixed together and served on hamburger buns could serve a few college buddies. Add your own fresh chopped green peppers, onions or even some jalapenos and give it your own flare.
Eggs
Eggs are inexpensive, full of protein and come in a handy little oval package. The hardest part about preparing eggs is getting them out of those shells. Eggs can be pan fried, boiled, scrambled, microwaved or even poached.
If you or your student are heading to college, it's never too early to get started cooking, and these basic dishes are a good place to start.
You should also make sure that renters' insurance is on your list of things to equip your student with. Renters insurance is inexpensive and can help protect your students property and minimize their liability while away at school. Contact one of our independent insurance agents to get a no obligation quote today.