Vehicle Trivia: See How You Score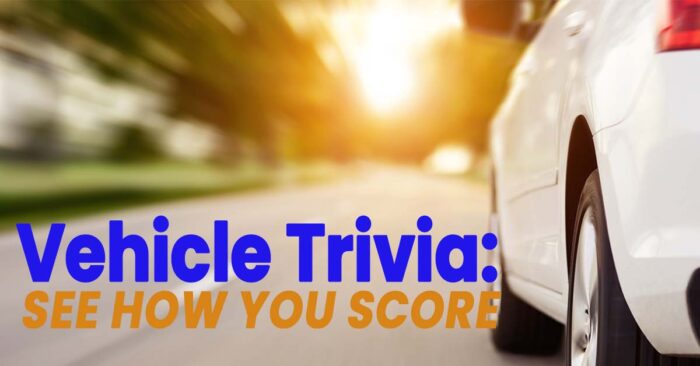 Vehicle Trivia: See How You Score
Most of us have one, have driven many of them and look forward to getting our next one. How much do you know about the vehicles we drive? Try our quick trivia.
What is the best-selling pickup truck in America?
The Ford F-Series pickups have ruled the roost for years. Seems every other pickup you see on the road is a Ford F-Series led by the Ford F-150.
How many of the top 4 selling vehicle colors can you name?
The best-selling car colors stay pretty much the same each year, with some minor adjustments in the rankings. They include white, black, gray and silver.
In what year did turn signals become mandatory on cars?
It actually wasn't until 1973 that laws made it mandatory to have AND USE turn signals on cars. Many apparently still believe it is an option.
In what year did AM radios first become available in cars?
The first AM radios appeared in Crossley Motors car in 1933. This was in the depth of the Depression when car sales were lagging. Push-button AM radios were quickly considered standard equipment by 1939.
Which vehicle was the first sold in the US with a passenger airbag?
The relatively short-lived Oldsmobile Toronado was the first US car to have passenger airbags.
When was the first Jeep sold to the public?
Willys Overland produced "quads" for the military in the 1940s, which developed into what we know today as the Jeep. The first Jeep sold to the public was a Jeep CJ-2A which was sold from 1945-1949. It has a rear lift gate, side mounted spare and oversized headlights.
When was the first Honda manufactured in the United States?
It was in 1979. Honda built its first factory in the U.S. in Marysville, Ohio. Today Honda has 12 plants building Honda vehicles across the nation.
Which President owned a 1978 Subaru Brat?
It is generally not well know that President Reagan had a Subaru Brat for use on the grounds of the Western White House west of Santa Barbra, California. By, the way, Bill Clinton had a '67 Mustang.
Whether you own an F-150, classic or new Mustang or drive a Jeep, we can help you get quality automobile insurance at a price you can be comfortable with. Our independent agents are not tied down to just one company, but can seek quotes from multiple providers in our network. Contact us today for your no-obligation quote.